Liuzzi thrilled to be on Sepang grid
| | |
| --- | --- |
| By Pablo Elizalde | Saturday, April 9th 2011, 11:33 GMT |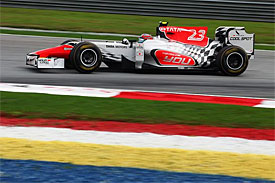 Tonio Liuzzi was delighted with his Hispania team's performance in qualifying for the Malaysian Grand Prix.
The Italian and team-mate Narain Karthikeyan, who failed to qualify for the opening race of the season, will be able to race tomorrow after running inside the 107 per cent time.
Liuzzi will start from 23rd position, and he says this is just the beginning of the team's progress.
"It's great for everyone that we were well under 107 per cent," said Liuzzi. "We proved that in Australia the problem wasn't a matter of pace but a matter of time out on the track, we had half a day of testing compared to the three months other teams did.
"You can't just gain mileage out of nothing. Now we have to work hard in the following months, in the next races to try and close the gap. This is just the first step for Hispania Racing, we've done a great job and we've improved the car a lot from Australia to now.
"I'm proud of the work done by everybody, starting with when they got the car on the ground in Australia and now having got it in good condition here in Sepang.
"We had a few minor issues both yesterday and today but that is normal when you're working with such little time. I think we can still improve, I did a good lap and this is the result: we will be on the grid tomorrow."
Team-mate Karthikeyan will start from the bottom of the grid after finishing a second behind Liuzzi, although the Indian said it was mission accomplished for him.
"We made it through qualifying which was our aim for today," he said. "The car is virtually brand new so it's good to get some more mileage done, the more time we can get out on the track the better.
"I flat-spotted my second set of tyres on turn one so it was hard to set a good time with them after that but everybody worked extremely hard and we're delighted to be in the race.
"We marked Sepang on the calendar beforehand as one of the toughest circuits to get under the 107% time so it's a great satisfaction to have done it.
"Now I hope to finish tomorrow's race and get a lot more laps under my belt with the new car. They're forecasting rain for tomorrow so you never know what will happen out there."