Valsecchi hoping for China outing
| | |
| --- | --- |
| By Edd Straw and Pablo Elizalde | Friday, April 8th 2011, 09:20 GMT |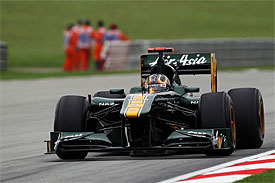 Davide Valsecchi is hoping for another outing with Team Lotus in the Chinese Grand Prix after a difficult first practice in Malaysia.
Valsecchi, replacing Heikki Kovalainen in the opening practice session, managed 18 laps after being hit by a power steering problem.
He finished in 23rd position, over six seconds off the pace.
"For me, not incredible," said Valsecchi about his day. "It was nice to drive on a grand prix weekend, but we had a problem at the end of the session and I couldn't drive the new tyres at all, which was a shame. We will be better in the next Friday session in China.
He is hopeful the team will allow him to run again next week in China.
"If the team tell me, yes. They were happy, so maybe I have the chance there. Today we couldn't use the best of the tyres because we had a power steering problem.
"The important thing is that I am here and I am learning. I hope in China to show my best, because here I couldn't. I hope to be faster. "
He added: "There is not so much time to do your best because you have only three runs. For me, it was difficult to find the limit on the first two runs with the same tyres. We put the new tyres on to push on the last run expecting it to be my best, but we had a problem. In China we will do our best and see how it is.
"It was not so easy to get the feel at first, but later on it started to come. In China I will be able to be faster from the beginning.
"I hope that I can show my best and it also gave me the chance to do half a day of testing in pre-season. After that, they told me I was going to drive here and in China. For me, it's a great chance and I hope that we will not have mechanical issues the next time and I can do my best to see where I am in relation to the regular drivers."