Karthikeyan expects mileage in Sepang
| | |
| --- | --- |
| By Edd Straw | Friday, April 8th 2011, 02:22 GMT |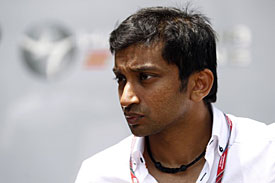 Narain Karthikeyan expects HRT to complete a full race weekend's running in Malaysia after a disastrous start to the season in Australia two weeks ago.
The Indian and team-mate Vitantonio Liuzzi both missed the 107 per cent qualifying cutoff in Melbourne, but Karthikeyan is confident that the Hispanias have the speed to make the grid at Sepang given enough mileage in practice.
The HRTs will run a 2011-specification front wing for the first time after not being able to pass the crash test in time to use it in Australia.
"I'm 99 per cent sure that it will happen and we will do FP1, FP2 and FP3," Karthikeyan told AUTOSPORT. "If we get the miles in, I don't think that we will have a problem [with qualifying].
"Obviously we have to do some aero tests, which is not ideal on a race weekend, but we need to understand how the new front wing is working."
Karthikeyan admitted that he found it difficult to sit out what would have been his first grand prix start since 2005 in Australia.
But despite the bad start to the season, he is impressed with the progress that the Spanish team has made over the past two weeks.
"It was quite hard, to be honest," said Karthikeyan. "But we are a small team and we always knew that it was going to be last minute. That's how things were.
"The team has improved a lot now and the car looks much better put together. They have done a lot of things this week that will help us for the future."
Karthikeyan believes that it is realistic to target getting ahead of Lotus and Virgin once the F111 is upgraded during the European season.
"I'm hoping that everything goes according to plan and then we won't be in a bad situation. It will be a good little team."