Loeb: Team switch would be pointless
| | |
| --- | --- |
| By David Evans | Thursday, April 7th 2011, 08:29 GMT |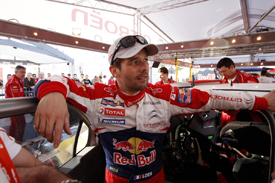 Sebastien Loeb has reiterated that he has no interest in moving from Citroen to Volkswagen at the end of the season when the German firm joins the World Rally Championship.
In an interview between Loeb and his Citroen team-mate Sebastien Ogier on the official WRC website, Loeb says he has nothing left to prove in the sport and sees no reason to move from the team he has driven with for his entire professional career.
Asked if winning the championship with another manufacturer would prove anything, Loeb said: "For sure it would prove something, but at the moment I don't want to change. I have always had a good car with Citroen and I had no reason to change.
"We won everything together, so now maybe it's a bit late to change. I don't know, for sure, it could prove something, but I don't need to prove anything."
Loeb went on to say that he would find life easier at Citroen without Ogier.
The seven-time champion said: "For sure, it would be easier [if Ogier had driven for another team this year]. For different things, what happened in Mexico would have been the normal way to do it, we have to battle without any team orders, we are fighting each other and we have to defend our own team.
"Now we are in the same team, when we are fighting both in front for sure it's complicated for everybody to know what we have to do - it would have been easier for sure."