Silverstone creates 'F1's Henman Hill'
| | |
| --- | --- |
| By Simon Strang and Matt Beer | Monday, April 4th 2011, 14:53 GMT |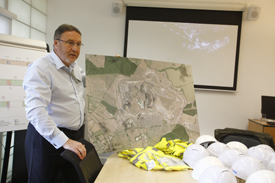 Silverstone managing director Richard Phillips says the area around the old Bridge and Priory corners will become a motor racing equivalent of Wimbledon's 'Henman Hill' when the track's redevelopment is complete.
With this section now bypassed by the grand prix circuit's new loop, the gravel traps have been removed and the area turned into a section for fans.
"The gravel traps around Bridge, Priory and the inside of Brooklands have all been removed to allow the public into these areas so that there is a massive piece of ground that has been taken in there," said Phillips.
"It will be like the motor racing version of Henman Hill. There will be a big screen there as well and much better access to the PAs."
Phillips said improving the experience for fans with general admission tickets was as important as upgrading the pits and paddock.
"We are a circuit that has to value its customers otherwise we can't pay our way and if we don't look after the general public then we would have failed and we won't survive as a circuit," he told AUTOSPORT.
"We made a lot of improvements last year, will do a lot more this year and you can expect that to continue. We have got 27 large screens going in. Some of those aren't trackside either, they will be going in behind the grandstands. So at Priory we have a screen where they can sit and watch the action and there will be a stage behind that as well, and that will be a general admission area."
He added that there would be several other changes to grandstand layouts.
"The ones on the old pitstraight have been made smaller. Three of the of the Copse grandstands are remaining, while two have disappeared. Luffield A is being moved, Hangar Straight's one is being moved as well," Phillips said.
"The rest of Becketts is being roofed this year and that's one of the best grandstands we have got at the circuit now. There is a new 5,000-seat grandstand going in in front of the Wing, also new grandstands going in at Abbey - all covered and all the way around Club covered grandstands as well."