Pirelli predicts four stops in Malaysia
| | |
| --- | --- |
| By Matt Beer | Monday, April 4th 2011, 10:31 GMT |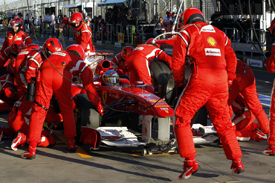 Pirelli says this weekend's Malaysian Grand Prix is likely to see teams choosing between three and four pitstops, as it admits that higher temperatures will result in more dramatic degradation than was seen in Melbourne.
Winter predictions of four or even five tyre stops per race did not come true in Melbourne, where only a few driver pitted three times, most stuck to two stops, and Sauber's Sergio Perez surprisingly completed the distance with just a single tyre change.
But Pirelli's motorsport boss Paul Hembery says tyre wear is set to be a bigger factor at Sepang.
"We were absolutely thrilled by our grand prix debut in Australia, but we're aware that Malaysia should be a very different proposition, with higher temperatures and increased degradation," he said.
"We said all along that we would be seeing two to three pitstops in Australia, but in Malaysia I think that figure is likely to increase to three to four."
Pirelli will also again take advantage of its dispensation to test additional tyres during Friday practice, and will give each driver two extra sets of a revised hard compound.
"We never believe in standing still at Pirelli, which is why the teams will have two extra sets of slick tyres available to them during Friday's free practice sessions for evaluation purposes," Hembery said.
"With testing not allowed during the season, this gives us a valuable opportunity to gather more data and feedback, while it also gives the teams an interesting taste of what could be coming in the future."