McMurray earns Martinsville pole
| | |
| --- | --- |
| By Diego Mejia | Saturday, April 2nd 2011, 18:37 GMT |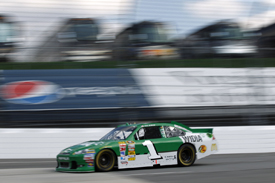 Jamie McMurray made it two pole positions in a row for Earnhardt Ganassi Racing after setting the fastest time in qualifying for Sunday's NASCAR Sprint Cup Series race at Martinsville.
McMurray set a quick lap of 19.621 seconds, at an average speed of 95.509 mph, which beat the previous benchmark set by Martinsville favorite Denny Hamlin. McMurray's team-mate Juan Pablo Montoya had qualified on pole position last week at Fontana.
"We have a really good car," said McMurray after claiming his eighth Cup career pole, his first at Martinsville. "This is one of my favourite tracks. I've always loved coming to Martinsville.
"We had a really good car in race trim yesterday. We struggled in qualifying trim. Bono [Kevin Manion, crew chief] and the guys made a couple of small adjustments. You come here and you are kind of at the mercy of your car.
"It is really slick, it is cold today, you need four or five laps to get going. We had a really good car today."
Stewart Haas' Ryan Newman will start beside McMurray on the front row, while Kasey Kahne will be third in the starting line up in his Red Bull Toyota. Joe Gibbs Racing team-mates Hamlin and Joey Logano rounded out the top five, while their team-mate Kyle Busch was 11th.
Reigning champion and six-time Martinsville winner Jimmie Johnson was only 17th for Hendrick - not his worst qualifying effort at the half-mile track - while points leader Carl Edwards managed ony 23rd on the grid as Roush Fenway Racing Fords did not seem particularly quick in qualifying trim. However Richard Petty's AJ Allmendinger, running Roush chassis and engines, was sixth fastest.
The #87 car of Joe Nemechek had its times disallowed after failing height checks in post-qualifying inspection. He was 37th initially but will start from 43rd place. No cars were left out of the race for Sunday's field as only 43 entered the event.
Pos  Driver              Team/Car                     Time     Gap
 1.  Jamie McMurray      Earnhardt Ganassi Chevrolet  19.621s
 2.  Ryan Newman         Stewart Haas Chevrolet       19.655s  + 0.034s
 3.  Kasey Kahne         Red Bull Toyota              19.665s  + 0.044s
 4.  Joey Logano         Gibbs Toyota                 19.680s  + 0.059s
 5.  Denny Hamlin        Gibbs Toyota                 19.726s  + 0.105s
 6.  AJ Allmendinger     Petty Ford                   19.735s  + 0.114s
 7.  Bobby Labonte       JTG Daugherty Toyota         19.745s  + 0.124s
 8.  David Reutimann     Waltrip Toyota               19.755s  + 0.134s
 9.  Kevin Harvick       Childress Chevrolet          19.761s  + 0.140s
10.  Regan Smith         Furniture Row Chevrolet      19.768s  + 0.147s
11.  Kyle Busch          Gibbs Toyota                 19.769s  + 0.148s
12.  Mark Martin         Hendrick Chevrolet           19.784s  + 0.163s
13.  Brian Vickers       Red Bull Toyota              19.788s  + 0.167s
14.  David Ragan         Roush Fenway Ford            19.792s  + 0.171s
15.  Clint Bowyer        Childress Chevrolet          19.797s  + 0.176s
16.  Paul Menard         Childress Chevrolet          19.817s  + 0.196s
17.  Jimmie Johnson      Hendrick Chevrolet           19.820s  + 0.199s
18.  Martin Truex Jr     Waltrip Toyota               19.833s  + 0.212s
19.  Marcos Ambrose      Petty Ford                   19.835s  + 0.214s
20.  Kurt Busch          Penske Dodge                 19.836s  + 0.215s
21.  Jeff Gordon         Hendrick Chevrolet           19.843s  + 0.222s
22.  Brad Keselowski     Penske Dodge                 19.852s  + 0.231s
23.  Carl Edwards        Roush Fenway Ford            19.875s  + 0.254s
24.  Trevor Bayne        Wood Brothers Ford           19.879s  + 0.258s
25.  Matt Kenseth        Roush Fenway Ford            19.879s  + 0.258s
26.  Dale Earnhardt Jr   Hendrick Chevrolet           19.894s  + 0.273s
27.  Juan Pablo Montoya  Earnhardt Ganassi Chevrolet  19.908s  + 0.287s
28.  Tony Stewart        Stewart Haas Chevrolet       19.914s  + 0.293s
29.  Dave Blaney         Baldwin Chevrolet            19.916s  + 0.295s
30.  Casey Mears         Germain Toyota               19.932s  + 0.311s
31.  Travis Kvapil       Front Row Ford               19.942s  + 0.321s
32.  Jeff Burton         Childress Chevrolet          20.002s  + 0.381s
33.  Greg Biffle         Roush Fenway Ford            20.004s  + 0.383s
34.  Robby Gordon        Gordon Dodge                 20.028s  + 0.407s
35.  Michael McDowell    HP Toyota                    20.044s  + 0.423s
36.  David Gilliland     Front Row Ford               20.066s  + 0.445s
37.  Joe Nemechek        NEMCO Toyota                 20.100s  + 0.479s
38.  Landon Cassill      Phoenix Chevrolet            20.135s  + 0.514s
39.  Mike Skinner        Germain Toyota               20.171s  + 0.550s
40.  Ken Schrader        FAS Lane Ford                20.228s  + 0.607s
41.  JJ Yeley            Whitney Chevrolet            20.306s  + 0.685s
42.  Tony Raines         Front Row Ford               20.306s  + 0.685s
43.  Hermie Sadler       TRG Chevrolet                20.640s  + 1.019s