Chaves tops second day of testing
| | |
| --- | --- |
| By Stuart Codling | Thursday, March 31st 2011, 10:12 GMT |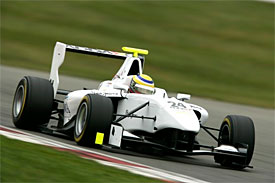 American rookie Gabby Chaves set the quickest time during the second day of the GP3 test at Silverstone on Wednesday.
The 17-year-old Addax driver posted a lap of 1m50.799s late in the morning session, displacing Arden's Lewis Williamson, who had topped the timesheets since mid-morning.
Just one second separated the first 19 drivers.
Rain was forecast for the afternoon but it arrived during the final minutes of the morning session.
Running on wet-weather Pirelli tyres, Lotus ART's Valtteri Bottas and James Calado initially set the pace in an afternoon session which had to be red-flagged several times.
2008 McLaren AUTOSPORT BRDC Award winner Alexander Sims ultimately set the fastest wet lap, but as the track dried out Lewis Williamson undercut his time by almost a second.
The session ended early because of another red flag.
Today's times:
Pos  Driver                     Team                       Time      Laps
 1.  Gabby Chaves               Addax Team                 1:50.799    34
 2.  Lewis Williamson           MW Arden                   1:50.894    24
 3.  Michael Christensen        RSC Mucke Motorsport       1:50.966    31
 4.  Nico Muller                Jenzer Motorsport          1:51.059    31
 5.  Nigel Melker               RSC Mucke Motorsport       1:51.082    26
 6.  Alexander Sims             Status Grand Prix          1:51.085    31
 7.  Simon Trummer              MW Arden                   1:51.127    38
 8.  James Calado               Lotus ART                  1:51.138    39
 9.  Mitch Evans                MW Arden                   1:51.154    25
10.  Marlon Stockinger          Atech CRS GP               1:51.179    34
11.  Valtteri Bottas            Lotus ART                  1:51.189    33
12.  Andrea Caldarelli          Tech 1 Racing              1:51.319    27
13.  Aaro Vainio                Tech 1 Racing              1:51.348    25
14.  Tamas Pal Kiss             Tech 1 Racing              1:51.387    19
15.  Antonio Felix Da Costa     Status Grand Prix          1:51.409    28
16.  Vittorio Ghirelli          Jenzer Motorsport          1:51.630    18
17.  Nick Yelloly               Atech CRS GP               1:51.635    19
18.  Rio Haryanto               Marussia Manor Racing      1:51.713    33
19.  Adrian Quaife-Hobbs        Marussia Manor Racing      1:51.749    19
20.  Tom Dillmann               Carlin                     1:51.893    34
21.  Thomas Hylkema             Addax Team                 1:52.067    30
22.  Conor Daly                 Carlin                     1:52.111    29
23.  Pedro Nunes                Lotus ART                  1:52.134    30
24.  Willi Steindl              RSC Mucke Motorsport       1:52.195    36
25.  Ivan Lukashevich           Status Grand Prix          1:52.318    37
26.  Zoel Amberg                Atech CRS GP               1:52.526    32
27.  Maxim Zimin                Jenzer Motorsport          1:52.542    34
28.  Matias Laine               Marussia Manor Racing      1:52.595    15
29.  Fernando Monje             Addax Team                 1:52.704    34
30.  Kotaro Sakurai             Carlin                     1:54.141     8

Afternoon times

Pos  Driver                    Team                     Time        Laps
 1.  Lewis Williamson          MW Arden                 2:06.902      34
 2.  Alexander Sims            Status Grand Prix        2:07.708      37
 3.  Tom Dillmann              Carlin                   2:07.719      24
 4.  Gabby Chaves              Addax Team               2:07.782      34
 5.  Valtteri Bottas           Lotus ART                2:07.855      37
 6.  Rio Haryanto              Marussia Manor Racing    2:07.864      27
 7.  Mitch Evans               MW Arden                 2:08.073      36
 8.  Michael Christensen       RSC Mucke Motorsport     2:08.154      22
 9.  Conor Daly                Carlin                   2:08.156      39
10.  Adrian Quaife-Hobbs       Marussia Manor Racing    2:08.401      26
11.  Matias Laine              Marussia Manor Racing    2:08.593      24
12.  Marlon Stockinger         Atech CRS GP             2:08.608      32
13.  Nick Yelloly              Atech CRS GP             2:08.667      36
14.  Tamas Pal Kiss            Tech 1 Racing            2:08.741      23
15.  Antonio Felix Da Costa    Status Grand Prix        2:08.869      36
16.  Nigel Melker              RSC Mucke Motorsport     2:09.181      31
17.  Zoel Amberg               Atech CRS GP             2:09.252      35
18.  Simon Trummer             MW Arden                 2:09.258      36