Alonso: Australia was no disaster
| | |
| --- | --- |
| By Pablo Elizalde | Tuesday, March 29th 2011, 10:31 GMT |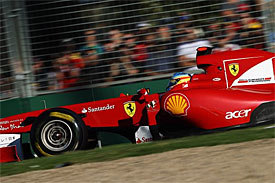 Fernando Alonso says there was nothing "disastrous" about Ferrari's performance at the season-opening Australian Grand Prix.
Although the Spaniard and his team arrived in Melbourne as one of the favourites to fight for victory, the reality was different, and the Italian squad did not have the pace to match Red Bull or McLaren.
Alonso finished in a distant fourth position, and he admitted it had not been the start of the season he wanted.
But the two-time champion made it clear there was nothing to worry about, and is sure he would have been closer to the podium if not for a poor start.
"It wasn't the start that we all wanted but nor is it anything to get worried about," said Alonso. "I already said it at the track: 12 points is not far below the world champion's average last year and two title contenders finished behind me.
"So overall the Australian Grand Prix can't be defined as disastrous. Certainly, in qualifying we were very far from Vettel's Red Bull and far from Hamilton's McLaren but in the race the situation improved - perhaps not compared to Sebastian but certainly against the others.
"The start was a pity: if I hadn't found myself down in ninth place at the beginning of the first lap I'd have been able to fight to the finish for the two lower steps of the podium."
The Spaniard insisted Ferrari's performance in Australian did not come as a big shock to him, as no one knew what the real pecking order was after testing.
"For me there weren't any big surprises, particularly because I didn't arrive in Melbourne with a clear idea of how the grid would line up," he said. "From the tests, especially this year, it was difficult to have a realistic picture of the situation.
"The only positive surprise was the behaviour of the Pirelli tyres which, at least at Albert Park, showed less degradation than what we saw at the test.
"We will see how things go in Malaysia at Sepang, on a track that is very different to the semi-street circuit of Albert Park."