Horner confident RBR can stay ahead
| | |
| --- | --- |
| By Jonathan Noble | Sunday, March 27th 2011, 21:14 GMT |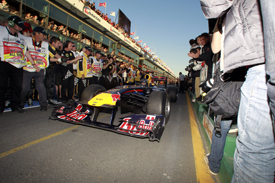 Red Bull Racing is unruffled by Lewis Hamilton's bold claims that its margin at the front of the field will definitely be wiped away over the course of the year.
Despite a dominant performance from Sebastian Vettel in the season-opening Australian Grand Prix, runner-up Hamilton said after the race that he had 'no doubts' his McLaren team would be able to close the gap over the campaign.
However, Red Bull Racing team principal Christian Horner said he had seen nothing from McLaren over the past few seasons to suggest the outfit was any better at development that his own squad.
When asked about Hamilton's claims, Horner said: "Of course he is going to say that, otherwise he may as well not turn up at the next race - but whether he believes it or not is another thing.
"They [McLaren] have made massive steps, they are a great team and they always have a strong development during the season. But we out-developed them last season, we did it the year before and we will be determined to do it again this year."
Horner says his outfit has taken huge confidence from its strong form in Australia, and sees the team in much better shape for clinching this year's title than it has ever been before.
"I feel that we are better equipped than last year to deal with the championship and the undoubted pressures that will come," he said. "I don't think we can expect another 18 races like we saw here, because you know McLaren will come back strong, you know Ferrari will come back strong.
"McLaren certainly won't sit still. They made a big step coming here this weekend, but we got some good stuff in the pipeline and the way the team is working is fantastic."
Speaking about his feelings on Vettel's victory, Horner said: "It was a fantastic start to the season. Sebastian has been in unbelievable form all weekend, dominated qualifying yesterday and then drove an excellent race.
"It was a bit of a voyage into the unknown because nobody fully knew how the tyres were going to react. But I think we got our strategy just right and it was great to win Pirelli's first race back in F1.
"There was one crucial stage where, after the first stop, Sebastian emerged behind Jenson [Button], who got a drive-through penalty anyway. Tactically if they could have held Sebastian up it would have put us behind Lewis after the stop.
"But Sebastian made a fast and fair move on Jenson and that was decisive for the rest of the race. Then it was a matter of controlling his pace. We were unsure if we were going to do an additional stop or not. But, as it was, the tyres worked out very well and we got away with a two-stop."