Glad Vettel keeping feet on the ground
| | |
| --- | --- |
| By Jonathan Noble and Pablo Elizalde | Sunday, March 27th 2011, 08:11 GMT |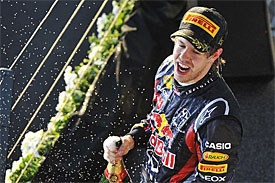 Sebastian Vettel says he is keeping his feet on the ground despite a perfect start to his title defence in the Australian Grand Prix.
The Red Bull driver, last year's world champion, secured a dominant pole position yesterday and completed a great weekend with a commanding victory in today's race.
Vettel finished over 20 seconds ahead of McLaren's Lewis Hamilton.
The German was a delighted man after the race, but warned Red Bull to keep its feet on the ground.
"I tried to keep saying to the team that we need to keep our feet on the floor," he said. "We got a lot of points which is very important and we enjoyed ourselves, which is even more important. It is a long year and a lot of things can happen.
"The guys sitting next to me, plus Ferrari is always very strong, Mercedes did not have a great start but they will come back stronger than last year.
"It will be very close but it is important to finish, so big, big compliments to the people back at the factor. The car was quick but also reliable and that is the key. It's the first time I have finished the Australian GP as well so I am very, very happy."
Vettel denied the race had been easy despite his dominance, the world champion admitting his flawless start was crucial.
"It was not an easy race," said Vettel. "The start was crucial. I had a good getaway but didn't know if it was enough until I saw Lewis and Mark battling for position. On the first stint I trying to hold a gap and then at some point you reach a cliff and the tyres see some degradation.
"Lewis caught up and we came in. I could not have done more laps and after my stop it was crucial to get past Jenson, which I could do immediately so that was very, very important. After that the second part of the race I didn't know what was going on behind Lewis and with him dropping off in terms of amount of pressure I could control the situation a bit better.
"There were a lot of things to learn today and we need to have another look at the race."
He also praised the innovations introduced in Formula 1 this year, and hailed Pirelli for its work.
"Very positive. We have to make give compliments to Pirelli. After the tests we were all a bit scared and we came here and in the end we did not see as many stops as expected and all in all it was a smooth race.
"The rear wing is very fresh. Turn 1 is not the best place for overtaking in the whole year, but it helps to come closer. So far it worked as expected and I can only judge what happened with me, not behind."