Loeb apologises to Hirvonen after row
| | |
| --- | --- |
| By David Evans | Saturday, March 26th 2011, 14:50 GMT |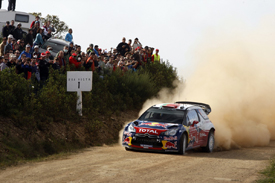 Sebastien Loeb has apologised to Mikko Hirvonen for driving into the back of the Finn's Ford Fiesta RS WRC at the end of the second stage of day two of the Rally of Portugal.
The Frenchman was caught in Hirvonen's dust after the Finn had stopped to change a puncture on the Ourique test. Loeb felt Hirvonen had pulled out in front of him purposefully to help his Ford team-mate Jari-Matti Latvala. The seven-time world champion vented his anger by nudging Hirvonen's car at the stage end.
By the time the crews had arrived back in service, Loeb had calmed down and said he understood Hirvonen's position.
"He could not have known if I was coming or not," said Loeb, "maybe I had a problem and he would have been waiting.
"I am not angry with Mikko, but I wasn't so happy with the decision from Ford. When we were in the dust, we were on the radio to the team to tell Ford we were there. The team did this, but Ford decided to do nothing."
Ford team principal Malcolm Wilson explained that his team was not willing to tell Hirvonen to pull over when he back at full speed.
"We have radio communications between us and Citroen," said Wilson. "They were on the radio saying Sebastien was stuck in the dust, they asked us to tell Mikko to pull over, but we told them Mikko was back at full speed. They asked us again, but the answer was the same.
"I'm sorry, but this is part of the sport. It could happen to us tomorrow."
Hirvonen said he sympathised with Loeb.
"What could I do?" said the Ford driver. "I just got straight into the car and got on with the driving. I looked, but there was no dust, no nothing. We had to go.
"I would have felt the same as Sebastien if he had done it to me. I was not surprised at his reaction, but he came and said sorry for that at the start of the next stage."
Citroen's Olivier Quesnel said he would not be dwelling on the issue.
"We move on, there's nothing to say," he said. "If the position was the contrary, it would be the same - I am sure Mikko did nothing wrong."
Loeb went from being second, just 3.8 seconds off the lead, after the morning's opening stage to third and 32.5s behind after SS8.