Button not getting carried away
| | |
| --- | --- |
| By Pablo Elizalde | Friday, March 25th 2011, 10:05 GMT |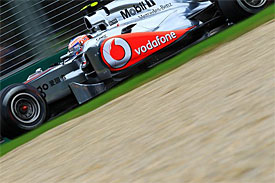 Jenson Button says he is not getting carried away despite setting the quickest time on Friday, the Briton insisting today's times mean nothing.
Button topped the times in the afternoon session in Melbourne, the McLaren driver leading team-mate Lewis Hamilton in a good session for the team.
Button admitted it had been a positive day thanks to the lack of problems, but said the times were not representative.
"That we've got reliability, which is great," said Button when asked what he had learned today.
"That's something we haven't had in the winter so finally to have a car that can run for as many laps as we wanted to is great. You are able to do set-up work and improve the car. A positive day.
"I still see no use in looking at the times. People are doing different things and there are so many variables now with KERS and rear wings and what have you.
"We are not going to get carried away. It's a positive day because we've been able to do so much running and get a good feel for the car in many different fuel loads."
The McLaren driver also echoed his rivals' thoughts about the behaviour of Pirelli's tyres, which worked better than in testing.
"The consistency of the tyres is better," he said. "It's not easy, as you still get degradation, but it's better than what we had in testing. I don't know if it's the same for everyone."
Hamilton was also positive about his day, admitting the car seemed more competitive than during testing.
"We were just focusing on our programme and I have no idea what the others are doing," Hamilton said. "Our car feels like its a bit of an improvement from testing, which is positive for us. Whether or not we are as competitive as the other we will wait to see tomorrow. "