Mercedes pair pleased with Pirellis
| | |
| --- | --- |
| By Edd Straw and Matt Beer | Friday, March 25th 2011, 07:34 GMT |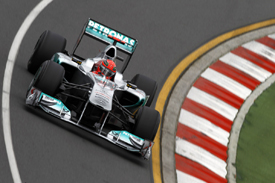 Mercedes drivers Michael Schumacher and Nico Rosberg felt the Pirelli tyres performed better than expected in free practice for the Australian Grand Prix today.
In cold and sometimes damp conditions, Schumacher took sixth place and described the tyres as 'pleasant'.
"The conditions made it tricky and interesting out there, but we learned quite a bit today," he said. "In particular, the tyres that have been criticised pretty heavily in advance worked out pretty well today. It's been very pleasant today to drive the Pirellis."
Rosberg, who was 10th fastest, agreed that degradation rates had been less dramatic than predicted.
"The tyres were definitely a lot better than expected - less degradation," he said.
"For the racing that doesn't necessarily have to be a good thing, but maybe it's sensible that they don't have that much degradation."
He suspected that meant the race would see three-stop strategies rather than the four stops that were mooted.
Asked if three stops would be the maximum, Rosberg replied: "I have no idea. I'm not a strategist. They were better than expected and we need to see what that means for strategy. Maybe it's not a four stop any more - less than that."
Rosberg was cautiously optimistic about how competitive Mercedes seemed in the sessions.
"We are roughly where we hoped to be, but I have no idea," he said.
"It seems to be pretty tight up front and I think that we can be in the midst of that that. Who's going to be at the front? I have no idea."