Massa unsure where Ferrari stands
| | |
| --- | --- |
| By Jonathan Noble | Monday, March 21st 2011, 20:38 GMT |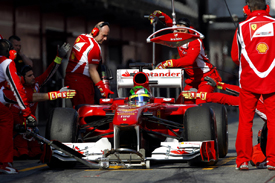 Felipe Massa says Ferrari still does not know how well its car stacks up against the opposition - even though he is sure the team has put together a reliable package for the season ahead.
The Maranello-based outfit spent much of its winter focusing on reliability, and only brought major aerodynamic updates to its car for the final pre-season test at Barcelona.
And although that strategy means Ferrari is bullish about reliability, Massa concedes that there is still some uncertainty about its pace compared to the rivals.
"I can't wait to get going: I'm ready to race and I think the whole team is well prepared after doing so many laps over all the days of winter testing, even more than we had planned in the end," Massa wrote on the official Ferrari website.
"The car appears to be reliable, but on its own this is not enough as the car needs to be quick too. For the moment, reliability has been good and I don't think we can complain about performance, but we won't have a clear picture until all the teams are together on track in Melbourne."
Massa also believes that predictions for Australia are much harder because of the complicated tyre situation - as no one yet knows what impact Pirelli's tyres will have on the racing.
"Getting to understand the new tyres has been one of the most interesting aspects of the winter tests and for my part, it's true I don't have any difficulty warming up the tyres which was a big problem for me last year," he said.
"With the high degradation we are seeing, the races will be very different and we will need to pit several times, whereas last year many races needed just one stop. It will also be interesting to see how the tyres operate when we reach the warmer countries, although maybe not Australia, as it is not expected to be so hot in Melbourne next week.
"Also, the difference between the soft and hard compounds is far greater which might even change the way you approach with a view to what tyre you will then use to start the race the next day.
"Certainly the drivers will have more influence over when we make the pitstops in the race: of course there will be a plan regarding our strategy made before the event, but I expect the situations to change far more quickly during the races with a driver feeling when tyre degradation is starting and choosing to pit early to get ahead of the car in front, or in the case of a safety car period. It will be very different and maybe more exciting for the spectators."