HPD's debut podium stuns drivers
| | |
| --- | --- |
| By Matt Beer | Sunday, March 20th 2011, 17:16 GMT |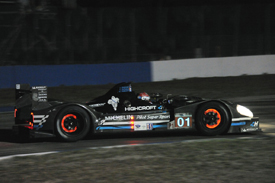 The Highcroft drivers declared themselves stunned by the performance of the new LMP1 HPD after it claimed second in the Sebring 12 Hours just a week after its track debut.
The car is a significant evolution of the LMP2 HPD that Highcroft took to last year's American Le Mans Series title, but with the go-ahead for the Sebring entry only given late in the winter, the team went into the race with scant testing mileage.
Despite this, the HPD ran without problems in the hands of Simon Pagenaud, David Brabham and Marino Franchitti, and was encouragingly close to the pace of the diesel Peugeots and Audis.
"The first thing you have to realise is the monumental effort to even get the car on the grid," said Brabham.
"It was only about a month ago that we got the go ahead to enter for Sebring. The car was built, sent to Florida, we ran it for the first time last Saturday with a systems check and then got stuck into testing on Monday.
"It was not really the ideal preparation for one of the biggest sportscar races in the world but when you think about the result we picked up - it is absolutely stunning."
The only other race confirmed for Highcroft at present is the Le Mans 24 Hours, for which Pagenaud is committed to Peugeot's programme.
But the Frenchman was so impressed by the HPD's performance, he suspects it will be a threat to the diesels at Le Mans as well.
"To just unload for the first time last Saturday and now be on the podium with the best teams in endurance racing is quite amazing," said Pagenaud.
"It really is quite incredible what the Highcroft team has accomplished.
"We had outstanding power from the Honda engine and the guys at Wirth Research did a fantastic job on the aero package which gave us both low drag and a lot of downforce – what more could you ask for.
"I think this car could be a very good contender at Le Mans – I will have to keep an eye on it and be careful when I am back in the Peugeot."
Highcroft insisted in the build-up that it would have to use the Sebring event as a test, and team boss Duncan Dayton joked that if that had been the case, the car had certainly passed.
"Somebody made a joke at the end how it was great that we invited 55 other cars to come our test which made for a great race..." said Dayton.