Hamilton: 'One or two titles insufficient'
| | |
| --- | --- |
| By Matt Beer | Sunday, March 20th 2011, 03:27 GMT |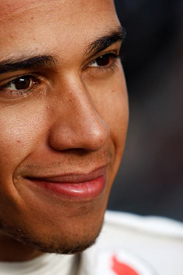 Lewis Hamilton feels he needs to win world titles 'time after time' to prove he is the best driver of his generation, but denied that he was thinking he might have to leave McLaren in order to achieve that.
The Briton finished runner-up in the world championship as a rookie in 2007 before taking the title in 2008 - holding the youngest ever Formula 1 champion record until Sebastian Vettel's 2010 success.
Since his crown, Hamilton has been unable to scale similar heights, with McLaren struggling in 2009 and ultimately becoming the outside bet in the three-way title battle with Red Bull and Ferrari last season.
In interviews with British Sunday newspapers, the 26-year-old said fleeting success would not be enough to satisfy him.
"I am not here to race 10 years and only win one or two world championships," Hamilton was quoted as saying by the Observer.
"I want to be one of the most successful F1 drivers of this generation so I do want to win more world championships and I think you have to continue winning and prove yourself time after time for people to really know that you are the best.
"I can't say right now that people can say he was clearly the best in the world. I have only been here for four years so I have got a lot more to do."
McLaren looks set to start 2011 playing catch-up again after a difficult pre-season testing period.
But Hamilton was quick to emphasise that while he still wanted to achieve significantly more success in F1, he saw no reason why he would have to switch teams to accomplish his goals.
"Look at the history of McLaren," he said. "They are an incredible team. I haven't been to other factories, but McLaren have some of the greatest people I have ever met in the team.
"The way they treat their drivers is fantastic. It is a great place to go to work and I feel privileged to be part of the team. They are fighters and I am a fighter."