Edwards confident about new tyre
| | |
| --- | --- |
| By Diego Mejia | Saturday, March 19th 2011, 22:48 GMT |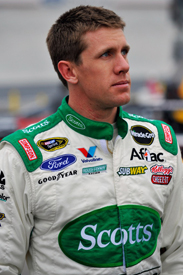 Bristol polesitter Carl Edwards seems confident he will be able to replicate his qualifying pace in Sunday's NASCAR Sprint Cup Series race after running Goodyear's new choice of right-side tyres during Saturday's practice.
Teams tested a new tyre specification during the two practice sessions of the day at Bristol Motor Speedway, following NASCAR's decision to change the right-sides after excessive wear led to concerns for Sunday's race.
Goodyear had introduced a new compound for this weekend which was softer than what was used at Bristol last summer, but it failed to rubber-in the track, compounding the early wear issues.
Most of the teams ran the sole set given for practice for each driver during the second and final session of the day, while some did not complete any laps on the old, faster specification, which was still available.
Edwards, who will lead the field to the green flag in Sunday's race, was only 33rd fastest in the final practice session but he only tested the new compound, which being harder, made lap times close to half a second slower while also causing changes to the handling of the car.
"The tyre is a lot slower and it's going to be a little more difficult to drive," said Edwards following practice. "We're still working on trying to get the car set up best for it, but it's a challenge for everybody. We're going to do everything we can. We had one set of tyres to practice on and one set of tyres to figure things out, so I just hope we'll be able to get it right with the amount of practice we got.
"We never put the faster tyres on, so that's why we were slow. We could have run a faster lap if we would have ran those tyres, but we just didn't see a reason to do that. I feel good about tomorrow. We were fast compared to other people on the newer tyre, so we're good."
Greg Erwin, crew chief for Edwards' team-mate Greg Biffle who starts Sunday's race from the front row, does not not expect any of his rivals who ran well with the previous compound to suddenly lose their pace with the new one.
He said Biffle ran his set of new specification Goodyear for 60 laps in practice, nearly half a fuel run, and had no wear issues. Later in the day during the Nationwide Series race, the track appeared to rubber in as expected and wear seemed to improve significantly relative to Friday's practice sessions.
"That new tyre, at very best, is probably three or four tenths a lap slower," Erwin said. "Most of the Roush Fenway cars started with the new tyre [today], so none of them were really able to post a fast lap that's going to put them at the top of the board, but we ran that set of tyres we had over 60 laps.
"We felt that was our best opportunity to get a good read on the tyre wear and make the most adjustments to our racecar. With the other tyre there was just so much grip that there wasn't a whole lot we could learn from it.
"We're not into making big changes on our cars based off things that we can't run in practice, so we use our simulations to try and help steer us in certain directions. For the most part, what we're going to race tomorrow is going to be one of the combinations that we ran today."
Weather forecasts for Sunday's 500-lap event show as much as 40 per cent chance of rain, which would eventually wash up the rubber that already settled on the track, increasing wear early on. In any case though, a competition caution is expected to be set by NASCAR during the first 50 laps of running.