Patrick crashes out at Bristol
| | |
| --- | --- |
| By Diego Mejia | Saturday, March 19th 2011, 21:52 GMT |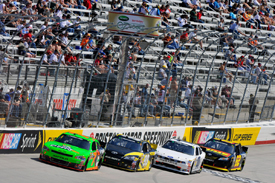 Danica Patrick posted her first DNF of her 2011 partial NASCAR season by crashing of her first race at Bristol Motor Speedway in the Nationwide Series today.
The IndyCar star was on course to match her goal of taking a top-20 finish on her Bristol debut when she made contact with Pastrana Waltrip's Ryan Truex with 52 laps remaining. The pair had already been battling for position for a while when Truex got loose and then touched Patrick's while trying to recover - causing Patrick to spin heavily into the Turn 1 barrier.
Patrick felt Truex was racing her too hard with plenty of laps still ahead, although she was not absolutely sure about how the incident unfolded.
"Well to know for sure I'll have to see the replay a couple of times, but what it felt like to me was I came out of the corner and I was just running down the straight and he came off the wall," said Patrick about the incident.
"I don't know if he had slapped the wall and he was pushing off and then snapped when he came off. I don't know if I might have given him the benefit of the doubt right there but I know it was early and he just runs hard. He's run hard every time I've been around him and it just seems like overkill.
"If your car is good you'll move forward, if your car is not you'll go back and that's just the law in NASCAR. There was still enough racing left that whoever's car was faster was going to be ahead."
Truex apologised to Patrick, admitting he was fighting a very loose car at the time.
"I just came of the corner dead sideways," said Truex. "I was either backing into the wall or down the hill and hoping to save it. I came off and came up, the right rear just almost hit the wall and came down to save it. [Patrick] was there and [I] came down on her and pretty much ended her day. I feel bad about that. It wasn't on purpose and I'm sorry."
Patrick started the race from 29th place on the grid and moved as high as 12th following the second caution of the day, in which she stayed out while some of her rivals pitted. However she quickly dropped down the order to 20th and as a very long green-flag stretch followed, she eventually dropped two laps down on the leaders by the time the next caution came out.
A later incident which unfolded ahead of her on lap 209 caused some damage to her #7 Chevrolet, but not enough to prevent the JR Motorsports driver from remaining in contention for a strong finish, despite running two laps down at the half-mile oval.
That was until 40 laps later when the front end of her car suffered massive damage following contact with the wall. Patrick lamented not being able to finish the race, which ended a string of eight consecutive finishes in Nationwide.
"I'm just disappointed," Patrick added. "I feel like actually this is a pretty decent run at Bristol for the first time. I got caught at little but with the tyres in the first stop that we stayed out, got up high and then got eaten alive.
"I don't think it was too bad, just disappointing to not get the finish. I had such a good run of finishes that it's just disappointing to leave for a couple of months with this kind of a thing, but that's Bristol I guess."
Saturday's race wrapped up the first part of Patrick's stock car schedule as she now focuses on the start of the IndyCar Series season in St Petersburg next week. She will be back behind the wheel of a Nationwide Series car in June when she competes for a second time at Chicagoland Speedway.
Kyle Busch won Saturday's Nationwide event at Bristol, setting a new record for laps led in the second-tier series by surpassing 10,000 at the front. It was also his 45th win in the series as he closes on Mark Martin's record of victories.
Subscribe to Premier Sports TV to watch all Sprint Cup events live in the UK. Visit www.premiersports.tv for more information.