HRT pair focus on mileage in Australia
| | |
| --- | --- |
| By Matt Beer | Friday, March 18th 2011, 19:22 GMT |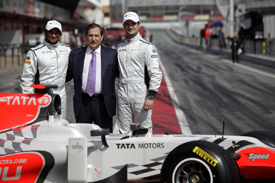 The Hispania drivers say all they are looking for from the season-opening weekend in Melbourne is an opportunity to put some miles on their untried new car.
The F111 was launched on the penultimate day of winter testing last week, but was unable to get any mileage as its dampers were not released by customs in time.
Although that means it will not make its debut until practice in Australia, Tonio Liuzzi and Narain Karthikeyan are optimistic that the car is enough of an improvement to take the team forward despite its lack of mileage.
"Even though it was disappointing to not be able to drive the new car in Barcelona, I'm sure the car is a significant step forward from last year's," said Karthikeyan. "It certainly looks the business, we just have to wait until Friday morning in Melbourne to put it all into practice.
"I think Albert Park will be a great place to start off with the new F111 since it's not a very demanding track. For a new and unproven car such as ours, I think that reliability is something we need to work on before we can start to extract the maximum performance, so I believe that if both cars finish the race, we will have had a satisfying weekend.
"Once Tonio and I have driven the car in Melbourne, we will both have a better understanding of what to expect for the rest of 2011."
Liuzzi agreed that Melbourne will effectively be a test session for HRT.
"It's difficult to predict how the car will respond here since we didn't get to test it in Barcelona, but I'm sure the areas we concentrated on developing will prove to be a significant improvement from last year's car," he said.
"The aim for the weekend is to come away with a clear picture of the car, making sure that all the new regulation items work well. If both cars make it to the chequered flag at the end with good pace and reliability then the weekend will have been a great success.
"Hopefully in this 2011 season we will take a giant leap forward and set some solid bases for the future."
Both drivers also expressed their sadness at the plight of the Japanese people following last week's earthquake and tsunami. The F111s will sport a Japanese flag design for the Melbourne weekend.
"This is a terrible thing for the Japanese population. I am shocked. I cannot watch TV anymore," said Liuzzi. "I feel so sorry for all my friends there, but I am sure that they will come out of this situation stronger than ever.
"Hopefully they will be able to recover and limit the damage. They are a strong population and I am sure they will react soon because they have incomparable dignity and hopefully all the other nations will help in every way possible because this kind of event should make the world unite."