F1 tyre calls now in drivers' hands
| | |
| --- | --- |
| By Jonathan Noble | Thursday, March 17th 2011, 16:11 GMT |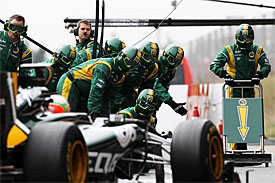 Formula 1 drivers will have a much larger role in managing tyre use and strategy in their efforts to win races than they have done before, reckons former Pirelli test driver Pedro de la Rosa.
Amid growing anticipation about how the characteristics of the 2011 Pirelli rubber are set to spice up the action from the season-opening Australian Grand Prix, de la Rosa thinks the onus of choosing the right tactics will be shifted away from teams and on to the men in the cockpit.
"I think that drivers will have to think a lot more about tyres - and how they manage the tyres," de la Rosa told AUTOSPORT in an exclusive interview. "That is not only related to strategy, because that is down more to the teams.
"As a driver you will feel the degradation earlier than the teams see the lap time loss. So I think that the driver will play a key role in knowing when the tyres are just hitting their end. If you leave it one or two laps too late you can lose five or six seconds.
"The feeling of when the tyre has gone off will be extremely important, and this is something I realised during the Pirelli testing. The tyres have a linear degradation until suddenly they have a huge drop off.
"And that huge drop-off, you will have to avoid it during any of your stints. And it will be a driver dependent decision, not a team dependent one.
"You will have to tell the team over the radio that the tyres have gone off and that you are going in. This will be interesting - as it will not just be a matter of engineers looking at a screen to pit you in."
De la Rosa, who is now a reserve driver at McLaren, believes that the excitement delivered by the tyres may be a headache for drivers and teams – but it good news for those watching the sport.
"I think it will be great for the fans," he said. "It is difficult to predict exactly how many stops we will have. You can say roughly that it will be around three, and that is fantastic.
"I remember last year that on a Thursday you already knew, no matter what the tyre compound was or which circuit it was, whether it was going to be a one-stop strategy with the window opening between lap 12 or 18. That would then be the end of the story.
"Now you have a lot of play with, and it will be more interesting for the fans. In F1 we talk about degradation, about linear degradation and non-linear degradation, but really we should think about the fans.
"Let's go to Australia, let's do the first few races and let's see what the fans think of the whole situation. And then let the teams and Pirelli decide what is next."