| | |
| --- | --- |
| Schwantz: Rider rivalry may hurt Honda | |
| | |
| --- | --- |
| By Toby Moody and Pablo Elizalde | Wednesday, March 16th 2011, 15:20 GMT |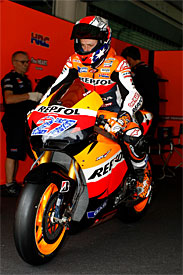 Former 500cc world champion Kevin Schwantz believes the battle between Honda team-mates Dani Pedrosa and Casey Stoner could have a negative effect on the riders.
Stoner, the 2007 world champion, left Ducati to join Honda, where Pedrosa has been the leading rider for several years.
Schwantz reckons the battle between the two could lead to mistakes if one of them tries to show he is the team's leader.
"It's a new team, a new bike, everything's going to be a little bit different," Schwantz told AUTOSPORT ahead of the start of the 2011 season this weekend.
"The pressure is that if Pedrosa's in your team and he's been there a lot longer than you, they may be listening to his direction, not yours.
"This is all stuff that can play on Casey's mind. If Casey can just go out and race and not let the politics side of things bother him, I think Casey's in with a shot, for sure.
"I think as Pedrosa and Stoner's battle progresses, one of them will let the other get to him. Casey's going to let Dani get in his head, and Casey's going to get into Dani's - and I think they'll make mistakes.
"Hopefully it won't be like Dani and Nicky Hayden in 2006, but in trying to show 'I'm the dominant one here at Honda and you guys need to follow my direction and listen to me', I think they might both take a little too much on their shoulders.
"They'll feel like 'watch this, I'm going to show them', and mistakes - whether it's crashes or just running off the track and losing a bunch of places - will be made, which will make the championship wide open."
The American, however, is in no doubt that Honda starts the season as a very strong outfit, and he thinks Stoner could be hard to beat if he can find his form.
"I think it's obvious watching the tests that Honda has got things right. There's more than one guy that's gone fast on the Honda," he said.
"You've got to think that if Casey can find the form that he had when he rode the Ducati to the 2007 world championship, then everybody will be lucky to find out which way he went, he's going to go so fast..."
* Kevin Schwantz previews the 2011 MotoGP season here.