Pirelli wants de la Rosa for final test
| | |
| --- | --- |
| By Jonathan Noble | Tuesday, March 15th 2011, 15:14 GMT |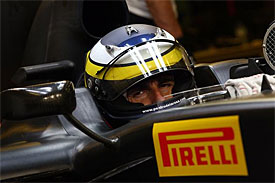 Pirelli wants Pedro de la Rosa to do one final test before it goes about finding a full-time replacement to lead its development programme.
De la Rosa had been expected to continue his role as Pirelli's test driver this year, but last week he announced that he was to join McLaren as its reserve driver.
Although Pirelli still has several weeks to find another tester, with the next scheduled running of its updated Toyota chassis set for April in Istanbul, the Italian tyre maker would like de la Rosa to run in that test so it can have a bit of continuity.
When asked by AUTOSPORT about the testing plans following de la Rosa's switch to McLaren, Pirelli's motorsport director Paul Hembery said: "Our first tests are in April, and ideally I would like Pedro to do those tests before he leaves us - as I would like some continuity.
"We have made some modifications to the Toyota for this year to increase the downforce and, having driven the last car, I would like Pedro to compare them. After that [test], I think it would create problems with the other teams if it went forward. But we would appreciate some sort of handover."
Hembery expressed some frustration about the lack of experienced F1 drivers who were available - and that many drivers were contracted to teams and not allowed to drive.
"It isn't ideal as there isn't a system in place for young drivers to drive F1 cars," he said. "So we cannot really pick up young drivers. Equally, you probably want someone with experience to give you the right input. For us it is not an easy one to resolve. I hope we will find a solution in a short space of time."
Hembery also cheekily suggested that Pirelli should also charge drivers for the privilege of being its test driver – with both Nick Heidfeld and Pedro de la Rosa having secured full-time employment elsewhere after working for it.
"If anyone wants to go into F1 they have a good budget and want to pay me to be a test driver, then just apply," he said. "Our success rate of getting F1 contracts is probably the greatest in the business at the moment, so if you write to me with a good budget proposal then we are willing to talk."