Alonso not writing off McLaren
| | |
| --- | --- |
| By Jonathan Noble and Pablo Elizalde | Tuesday, March 15th 2011, 12:32 GMT |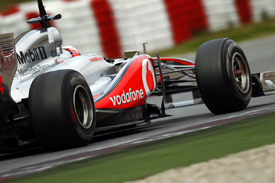 Fernando Alonso thinks it is much too early to write rivals McLaren off - despite both Lewis Hamilton and Jenson Button being pessimistic about their chances for 2011.
With the new McLaren MP4-26 having been unable to match the pace of pre-season favourites Red Bull Racing and Ferrari in testing, plus having its fair share of reliability concerns, the Woking-based team is facing the prospect of starting the campaign well down the order.
However, Alonso is less convinced that McLaren will be as disappointing in the races as it has been in testing – and he reckons his former outfit has every chance of recovering lost ground over the season.
"They are better than they look," he told El Pais. "Winter testing doesn't offer a clear picture. Maybe they expected a bit more, judging from what they are saying.
"Maybe they are at the level of the best and they were expecting to be far in front. We will see when we get to Australia. McLaren is not going to be fighting for 10th place. They will be close to the podium."
Alonso has also moved to clarify remarks earlier this year where he talked about Michael Schumacher being the driver he feared the most for 2011.
Although his comments at the time were interpreted that he believed Schumacher was favourite, Alonso has made it clear that he simply believes the seven-time champion is the man who has the best chance of turning a competitive situation in his favour.
"When I said that about Schumacher, I said that the rival that I respect the most, or the one I would respect the most if we all started from scratch, it would be Michael," said Alonso.
"I never said the rival I feared most for this season was Michael. I always use him as an example for us, as he is the rival I respect the most, but that doesn't mean he's more dangerous. The two Red Bull drivers are in theory the favourite, but with Mercedes's improvement, Michael becomes very competitive. "