Best winter still leaves RBR guessing
| | |
| --- | --- |
| By Jonathan Noble | Sunday, March 13th 2011, 12:32 GMT |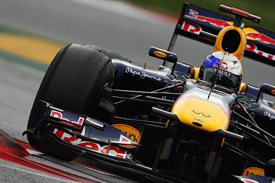 Red Bull Racing may having rounded off what it believes was its 'best ever' pre-season build-up at Barcelona this week, but the team insists it still does not know how it stacks up against the opposition.
Although most observers have singled out Red Bull Racing's strong and consistent form throughout winter testing as evidence that the team is favourite for 2011 glory, the outfit itself is more cautious about where it stands.
Team principal Christian Horner admitted that the team was not particularly concerned about any element of its package, but still believes that the true form of the front runners has not been made clear yet.
"We genuinely don't know where we sit in comparison to the others," Horner told AUTOSPORT in an exclusive interview after the conclusion of testing at Barcelona.
"The fuel loads make such a huge difference that it is impossible to predict. I don't think we are particularly nervous about anything, but there is always a nervous anticipation as you head to the first race.
"I can say that I think we have had the best pre-season to date - in terms of mileage completed, in terms of being at the first test, in terms of the items we have wanted to test.
"We are arguably in the best shape ever – but there are no points scored for winter testing. It is an important part of the year, but the points start in Melbourne in two weeks. At the moment everyone is on the same number."
Horner said that Red Bull's testing programme had gone to plan, and that it had deliberately spent the winter focusing on its own performance rather than worrying about what rivals were up to.
"I think we are satisfied with the preparation we have had, pre-season. We have managed to work our way through the programme and hit most of the targets that we have set ourselves.
"As we have done for the last few years, we have really focused on our own preparation. You have 15 days of testing and every one has to count. So to try and judge where we sit in the pecking order is very difficult.
"We hope to be competitive in Melbourne. I am sure Ferrari will look strong, and obviously teams will be bringing significant upgrades. It will only be in Q1 for Melbourne where the fuel comes out of the cars and we will see where we are."
Horner said that Red Bull Racing's title successes in 2010 had helped lift spirits for this season, and resulted in an even more focused and determined workforce.
"Every year we try to improve and learn lessons from the previous year. We have had continuity in all areas and that is important.
"In 2009 we were very, very strong, particularly in the second half of the year. 2010 was a phenomenal year for us and there is a real determination in the team to try and maintain that kind of performance, and to defend both titles that we achieved.
"It was an amazing thing that we managed to achieve last year and it consumed a huge amount of time and dedication from the team. And the key now is to try and repeat that.
"The team is working in harmony. It is working extremely well. But we are only entering our seventh season. This is only our seventh car, so sometimes it is easy to forget that we are still a relatively young group."