Superleague shakes up '11 calendar
| | |
| --- | --- |
| By Matt Beer | Saturday, March 12th 2011, 18:05 GMT |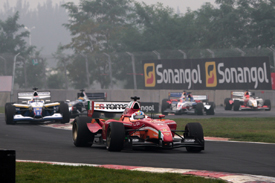 Superleague Formula has announced a heavily revised 2011 schedule after securing a first visit to Russia in September, as predicted by this week's AUTOSPORT magazine.
The new schedule maintains Superleague's plan of an opening half in Europe before further-flung races to conclude the championship.
The provisional calendar announced in late-2010 began with rounds at Monza on 16-17 April and Portimao on 7-8 May. These have now been dropped in favour of an Estoril opener on 28-29 May.
Assen, Navarra, Zolder and Donington Park keep their dates in the European leg, but the Nurburgring loses its round and Magny-Cours is added.
Superleague then becomes the first international single-seater series to race in Russia with an event at the Smolensk Ring on 10-11 September.
Its previously suggested Chinese double-header at Ordos and in Beijing on the first two weekends of September is replaced by a single Chinese round at a currently unspecified venue on 24-25 September.
Superleague's Brazilian debut has been confirmed for Curitiba on 8-9 October, with another event in the country scheduled for a week later.
It then plans to conclude with rounds in the Middle East and New Zealand, though circuits for the final three meetings have not been announced so far.
Series boss Robin Webb said: "SF took a significant step forward in 2010 when we visited China for the first time as part of our expanded 12 round calendar. The 2011 schedule has a well-balanced mix of traditional venues and new circuits and we're looking forward to introducing our unique motorsport concept to new fans around the globe."
Provisional 2011 Superleague Formula schedule:

Date             Venue
28-29 May        Estoril
4-5 June         Assen
2-3 July         Navarra
9-10 July        Magny-Cours
16-17 July       Zolder
6-7 August       Donington Park
10-11 September  Smolensk Ring
24-25 September  China tbc
8-9 October      Curitiba
15-16 October    Brazil tbc
12-13 November   Middle East tbc
26-27 November   New Zealand tbc