Q & A: Hamilton on McLaren's form
| | |
| --- | --- |
| By Jonathan Noble | Saturday, March 12th 2011, 15:00 GMT |
McLaren faces another tough start to the season, with its 2011 car lacking both speed and reliability in winter testing.
But Lewis Hamilton insists he is not downcast, and AUTOSPORT heard from him during a break in today's extremely wet test session at Barcelona.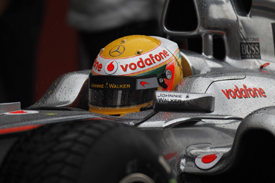 Q. We hear it's a glorious sunny day at Silverstone today...
Lewis Hamilton: Really? That's unusual!
Q. ...is it frustrating at a time when your team needs a lot of testing that a day here has been washed out.
LH: I don't think it's frustrating. It's unfortunate. Instead of testing Thursday we pushed it a day later and it was beautifully sunny on Thursday. But that's the way luck goes.
We've done a couple of laps today but we've not seen rain like this for a while.
Q. Is it like Korea?
LH: Probably something similar.
Q. So you'd want to be racing?
LH: There's a lot of aquaplaning, but if it was race day, I'd be saying 'let's do it'.
Q. What's your mood going into Melbourne?
LH: I'm positive. I love racing, I'm looking forward to racing. I would have been happy if it had been a shorter time off - it feels like a really long winter. I'm just excited to get back into racing. I'm always hoping for the most optimistic improvement. I'm always hoping that all of a sudden they'll say 'okay, we've got this coming' and we'll arrive there and the day before we'll have something new. You never know when that could happen so let's keep our fingers crossed and try to keep an eye on what the guys are doing. I know everyone's working as hard as they can. No one's slacking or sitting back. We know we have a bit of a hill to climb, but we can do it.
Q. Is it frustrating to start another season knowing you've got to play catch-up?
LH: No, I don't like to use the word 'frustrating' because I'm not frustrated. It's tough on everyone in the team because everyone puts so much work into it, and you see it come out and look so beautiful, and... it's not a disaster, it just doesn't have as much performance as we'd like at the moment. But it's a foundation that we can build on, and that's all that really matters.
It means that we can get there. If you look at last year, we didn't have the fastest start at the beginning but we were there or thereabouts and second in the constructors' championship. It's a long, long year and I have no doubts that we can compete with these guys.
Q. Do the new rules provide an opportunity? Ross Brawn has suggested that clever use of tyres and strategies can overcome a faster car...
LH: Definitely. Looking at 2009, I had one of the worst cars - or at least the only car that was driving on three wheels - and I came from 18th or something like that to third or fourth. And that was with the weird tyres and lower downforce level... It's possible. For the first few races with the pitstops, you can imagine everyone's going to be confused. Eventually it will settle down. Now we don't really know - it could be two [pitstops], it could be four, five.
Q. Are you fully tuned into the tyre wear and can you predict it?
LH: I can't predict it, but you can feel it going. It's down to making the call when you know that the tyres are losing temperature and losing rubber, and then you need to be able to make the right call and hope that your team don't say 'no, don't come in...'
Q. Based on this test, how confident are you about the race results?
LH: I've done some long runs on the tyres on previous days, and I think the car's feeling a lot better. So I think our race pace doesn't seem so bad. Whether we can finish the race is the next thing. But our race pace doesn't look so bad compared to other people's.
Q. Is reliability your biggest concern at the moment, more than the pace of the car?
LH: No.
Q. So pace is a bigger worry?
LH: No.
Q. Both equal?
LH: Absolutely.
Q. Does it feel like a repeat of the 2009 situation - where you'll be coming right from the back and trying to go forward - or more like last year?
LH: I don't know. I could only be guessing right now, I just don't know where everyone else is. Yesterday I looked at the times and everyone's done a 1m21s. I couldn't get into the 1m21s the other day. I just got into the 1m22s. So based on my times compared to them it looks like we're two seconds off, but we're not two seconds off. Yesterday Jenson [Button] didn't do any light-fuel runs or decent tyre runs, so it's difficult to know exactly where we are.
I'm assuming they did qualifying runs. 1m21.2s is very competitive. I would guess that we could get down to a low 1m22s maybe, but that's just a guess.
Q. Has anyone particularly surprised you?
LH: No.
Q. Not Michael Schumacher's time yesterday?
LH: No, he's a seven-time world champion so when he does a fast lap you're not going to be surprised. He's been racing for God knows how many years.
Q. Is it going to be hard to go against your instincts to push hard in the race when you've got to protect the tyres?
LH: No it's the same. In 2007 you could push a lot, lot more and the tyres were forgiving. In 2008 you had to push a little bit less. In 2009 you had to push a little bit less. 2010 even more, and 2011 even less.
Q. Has that taken away the fun?
LH: No, the fun is the qualifying. And there will still be overtaking so hopefully that will be fun. The fun is the speed and grip we get in qualifying, and you're still going to get that. The tyres do hold up for a couple of laps. It's just on a race distance with 140 kilos [of fuel] they struggle.
Q. Who do you think you'll be next to on the grid in Melbourne?
LH: Probably Jenson...