Loeb: No delight in Ogier's mistake
| | |
| --- | --- |
| By Matt Beer | Monday, March 7th 2011, 15:19 GMT |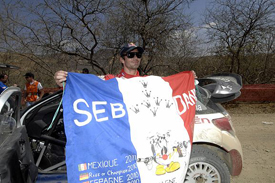 Sebastien Loeb said his joy at winning Rally Mexico was tempered by Sebastien Ogier having crashed out while narrowly leading.
The two Citroens had been battling for victory throughout the event, with Ogier 10 seconds ahead going into the final day - only to go off the road and break his suspension on Sunday's first stage.
After six years as undisputed number one in his team, Loeb now shares equal status with Ogier and Citroen is content for both to fight for the World Rally Championship drivers' title.
Ogier's accident yesterday was a blow to his chances of being the first man to beat Loeb to a championship since 2003, but the reigning champion said he was sad that Citroen missed out on a one-two rather than happy that his team-mate had become less of a title threat.
"For sure, I was very disappointed to see him like that," said Loeb. "He did not deserve that. He did a great race since the start of the rally. It was between him and me, I know what it is like if you are in these situations. It is not easy. I was not happy for the team and me.
"For my side my job is to fight and to win. We have to push. It is difficult to say for the rest of the season. We are two strong drivers in the same team. Before that, I was always the leader in the team. Now we are two leaders in the team. That is it. I am not happy with one car at the end."
Loeb admitted that that having to go head to head with Ogier was going to make this a very different season, and he expects them to remain well-matched.
"We were always [going to be] equal at the start of the season," said Loeb. "Usually I had a team-mate and I was able to beat him and the situation was more clear. Now he is very fast and wants to win, and I want to win."
Ogier's retirement also meant Ford stretched its manufacturers' championship lead thanks to Mikko Hirvonen and Jari-Matti Latvala's podium finishes, but Citroen team boss Olivier Quesnel remained calm about his young driver's mistake.
"If you remember the last rallies in Mexico, each time we lost one car and each time we were world champions. This is rallying. This is it," said Quesnel.
"I think Ogier is more disappointed than me because there are not so many drivers this year and not scoring points by retiring from a rally is not good for the drivers' championship."
Despite Citroen being dominant in Mexico, Loeb feels it is still too early to say whether either of the WRC's full-time teams has an edge.
"It is difficult to say. Every year in Sweden Ford wins, and CitroŽn wins in Mexico," said Loeb. "Portugal is a real battle and we have different cars. I am confident our car is good there. We will see."