Edwards takes Las Vegas victory
| | |
| --- | --- |
| By Diego Mejia | Sunday, March 6th 2011, 23:18 GMT |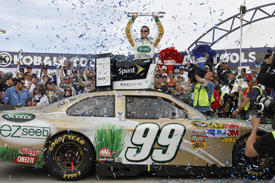 Carl Edwards rounded up a weekend of Roush Fenway domination at Las Vegas with victory in Sunday's NASCAR Sprint Cup Series race as Tony Stewart led most of the way before a penalty.
The trademark back-flip celebration of Edwards was seen for the first time in 2011, but for the third in the last five Cup races counting his successes at the end of 2010.
Although Stewart looked to have the fastest car of the field, a costly penalty for the two-time champion meant it was Edwards who went on to park his car on Victory Lane, giving team owner Jack Roush his seventh Vegas win.
Edwards grabbed the lead for the first time following the sixth restart of the race and Stewart's penalty, which was caused by an air hose getting dragged out of his stall while pitting as the leader.
During the next caution the leaders pitted again for fuel and tyres and Stewart moved back up to the lead as he only took on right-side tyres, while many other changed all four. Earnhardt Ganassi's Juan Pablo Montoya also beat Edwards in the pits, but with a final stop for tyres and fuel ahead, the victory was still up for grabs.
The race went to the finish under green, making the final pitstops critical to the outcome. As Stewart pitted for the last time he had to get a full new set of Goodyears bolted to his #14 Stewart Haas Chevrolet while both Montoya and Edwards could afford a shorter stop for right-side tyres only.
First to pit after Stewart was Edwards while Montoya grabbed the lead, making the most of his speed on the long runs. After the Colombian's final stop, Edwards' momentum allowed him to put the pressure on, and he overtook for the lead with 23 laps remaining.
From behind, Stewart tried to make the most of his grip advantage while overcoming his longer final stop and although he caught Montoya and passed him with five laps remaining, he ran out of time to eat into Edwards' lead.
The victory for the former Nationwide Series champion and Sprint Cup runner-up rounded up an impressive weekend for the Roush Fenway Fords as Matt Kenseth was fastest in every practice session and claimed pole position with a new track record, before Edwards went on to give the blue oval its second win of the season.
The team's form proves it is back in business after a slow start last year, but Edwards believes there is even more to come.
"We have been performing really well and it is just a joy to drive these racecars right now," said Edwards. "You look at the way we qualified and ran, the Fords are back and are strong. It is due to the work of these two guys next to me and the guys back at the shop like [RFR general manager] Robbie Reiser. Everyone has worked really well together. It is great to drive these racecars.
"I think the team performed well but I don't believe they performed their best. There is more to come. They did do what they had to do at the right time which I was very happy with but I think they will get even better from here. I believe that all the programmes probably will. I know there is more potential in the crew that goes over the wall for me and the crew that works on these racecars so I am very excited about that."
Stewart's second place handed him the lead in the Cup standings, although that did not lessen his disappointment, as he felt without his penalty a win was guaranteed.
"It kills me to throw a race away like that, especially at a place we haven't won at yet," said Stewart, who has won at every Cup track but Vegas and Darlington. "This was a big deal today, and when you lead that many laps and have a car that's that fast and you lose it... I'm sure tomorrow when the emotion dies down we'll look back and say it was a great weekend, but it does not sit good right now."
Montoya claimed his best result of the season and his best at Vegas, as he continued to build on his best season start in Cup. He seemed to lack speed on cold tyres despite being more consistent through the long runs, making him vulnerable to Edwards and Stewart on the short run to the flag after the final stops.
"Our car was very good all day," said Montoya. "There was nothing for Tony, I think Tony had the dominant car. I think I could have been a little further ahead after the pitstop, if I had been a little more aggressive. We needed a good result for the team. [The car] has been amazing today. All weekend the guys did an amazing job."
Australian Marcos Ambrose had an impressive race, finishing fourth in his Richard Petty Motorsports Ford after starting from the front row of the grid. Meanwhile Stewart's team-mate Ryan Newman proved the speed of his boss was no fluke by taking fifth.
Joe Gibbs Racing's Denny Hamlin recovered from an engine change that sent him to the back of the grid to finish seventh ahead of Hendrick's Dale Earnhardt Jr. Penske's Kurt Busch also came back from an early spin while battling Montoya for position, taking ninth ahead of Red Bull's Brian Vickers, who claimed his first top-10 finish since the blood clots diagnosis that sidelined him from most of the 2010 season.
Polesitter Kenseth was 11th after recovering from an early puncture, while reigning champion Jimmie Johnson had a lacklustre day with 16th in his Hendrick Chevrolet, ahead of the similar Impala SS of Richard Childress Racing's Kevin Harvick, who also had to charge back after speeding on pitroad during the sixth caution of the day.
Phoenix winner Jeff Gordon ended his race against the wall after his right front tyre went down, while pre-race points leader Kyle Busch survived a similar incident before his engine blew up on lap 109.
Kurt Busch, Edwards, Montoya and Newman now trail Stewart in the points standings.
Results - 267 laps:

Pos  Driver              Team/Car                         Time/Gap
 1.  Carl Edwards        Roush Fenway Ford            2h57m20.000s
 2.  Tony Stewart        Stewart Haas Chevrolet           + 1.246s
 3.  Juan Pablo Montoya  Earnhardt Ganassi Chevrolet      + 2.465s
 4.  Marcos Ambrose      Petty Ford                       + 2.922s
 5.  Ryan Newman         Stewart Haas Chevrolet           + 6.271s
 6.  Martin Truex Jr     Waltrip Toyota                   + 6.416s
 7.  Denny Hamlin        Gibbs Toyota                     + 9.003s
 8.  Dale Earnhardt Jr   Hendrick Chevrolet              + 10.648s
 9.  Kurt Busch          Penske Dodge                    + 12.321s
10.  Brian Vickers       Red Bull Toyota                 + 14.342s
11.  Matt Kenseth        Roush Fenway Ford               + 14.607s
12.  Paul Menard         Childress Chevrolet             + 15.690s
13.  David Reutimann     Waltrip Toyota                  + 16.184s
14.  Kasey Kahne         Red Bull Toyota                 + 17.488s
15.  Clint Bowyer        Childress Chevrolet             + 18.481s
16.  Jimmie Johnson      Hendrick Chevrolet              + 20.445s
17.  Kevin Harvick       Childress Chevrolet             + 21.214s
18.  Mark Martin         Hendrick Chevrolet              + 21.991s
19.  AJ Allmendinger     Petty Ford                      + 24.966s
20.  Trevor Bayne        Wood Brothers Ford              + 25.852s
21.  Jeff Burton         Childress Chevrolet             + 26.345s
22.  David Ragan         Roush Fenway Ford               + 26.788s
23.  Joey Logano         Gibbs Toyota                      + 1 lap
24.  Bobby Labonte       JTG Daugherty Toyota              + 1 lap
25.  Casey Mears         Germain Toyota                    + 1 lap
26.  Brad Keselowski     Penske Dodge                     + 2 laps
27.  Jamie McMurray      Earnhardt Ganassi Chevrolet      + 3 laps
28.  Greg Biffle         Roush Fenway Ford                + 3 laps
29.  Mike Skinner        FAS Lane Ford                    + 5 laps
30.  Bill Elliott        Phoenix Chevrolet                + 5 laps
31.  Robby Gordon        Gordon Dodge                     + 6 laps
32.  Andy Lally          TRG Chevrolet                    + 6 laps
33.  Travis Kvapil       Front Row Ford                   + 6 laps
34.  Dave Blaney         Baldwin Chevrolet                + 7 laps
35.  Tony Raines         Front Row Ford                   + 9 laps

Retirements:

     Jeff Gordon         Hendrick Chevrolet           193 laps
     David Gilliland     Front Row Ford               147 laps
     Kyle Busch          Gibbs Toyota                 107 laps
     Regan Smith         Furniture Row Chevrolet      77 laps
     JJ Yeley            Whitney Chevrolet            45 laps
     Michael McDowell    HP Toyota                    41 laps
     Joe Nemechek        NEMCO Toyota                 34 laps
     Landon Cassill      Germain Toyota               32 laps