Kenseth secures Las Vegas pole
| | |
| --- | --- |
| By Diego Mejia | Saturday, March 5th 2011, 02:25 GMT |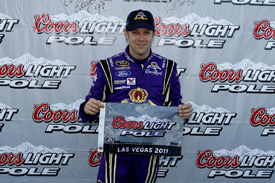 Matt Kenseth claimed pole position for Sunday's NASCAR Sprint Cup Series race at Las Vegas with a new track record, as Ford drivers dominated Friday's qualifying session.
The 2003 champion was last in the qualifying order after pacing the opening practice session of the weekend, but he withstood the pressure to set a fastest lap of 28.589 seconds in his Roush Fenway Ford at an average speed of 188.884 mph, improving nearly four tenths of a second from his best practice time.
Kenseth, a two-time winner at the track but not usually the best at getting the most out of his car on a single flying lap, beat the previous benchmark set by the Richard Petty Motorsports Ford of Australian Marcos Ambrose, also breaking the track record for the mile-and-a-half banked oval.
"It feels great! Qualifying is not my strong suit but I knew we had a really fast car today when we did our last qualifying run," said Kenseth after winning his first pole since May 2009, and only the fifth of his Cup career.
"Honestly this is the most nervous I have been before qualifying in probably five years at least because I knew we had a shot at the pole and I knew last week we really messed up. I didn't want to mess up a fast car today, so I was really happy with that."
Ambrose matched his best qualifying in Cup, breaking into the Roush Fenway domination as Carl Edwards and Greg Biffle completed the top four spots on the grid for Sunday's 400-mile race. Their team-mate David Ragan had been second earlier in practice and ran right before Kenseth in qualifying but spun on his run, preventing a possible top-five sweep for his outfit.
Kyle Busch sat on provisional pole for a while but ended up fifth, failing to continue the streak of the Busch brothers who had started up front for the past three years at their home track. His Joe Gibbs Racing team-mate Joey Logano was sixth in his Toyota while Stewart Haas' Ryan Newman was best of the Chevrolets in eighth.
Veteran Mark Martin, who is set to move up to second in the all-time list of NASCAR starts on Sunday, rounded out the top 10 as the best of the Hendrick drivers, two rows ahead of team-mates Jeff Gordon and Jimmie Johnson - the latter a four-time winner at the venue.
Penske's Brad Keselowski was 20th and best among the Dodge drivers who seemed to struggle on the bumps of Turns 1 and 2.
Mike Skinner was fastest of those having to qualify on speed on 29th, while Brian Keselowski failed to make the field for the second week in a row after his shock qualifying achievement in the season-opener at Daytona.
Pos  Driver              Team/Car                     Time     Gap
 1.  Matt Kenseth        Roush Fenway Ford            28.589s
 2.  Marcos Ambrose      Petty Ford                   28.698s  + 0.109s
 3.  Carl Edwards        Roush Fenway Ford            28.704s  + 0.115s
 4.  Greg Biffle         Roush Fenway Ford            28.728s  + 0.139s
 5.  Kyle Busch          Gibbs Toyota                 28.790s  + 0.201s
 6.  Joey Logano         Gibbs Toyota                 28.828s  + 0.239s
 7.  AJ Allmendinger     Petty Ford                   28.838s  + 0.249s
 8.  Ryan Newman         Stewart Haas Chevrolet       28.843s  + 0.254s
 9.  Martin Truex Jr     Waltrip Toyota               28.846s  + 0.257s
10.  Mark Martin         Hendrick Chevrolet           28.847s  + 0.258s
11.  Jamie McMurray      Earnhardt Ganassi Chevrolet  28.864s  + 0.275s
12.  Regan Smith         Furniture Row Chevrolet      28.864s  + 0.275s
13.  Jeff Gordon         Hendrick Chevrolet           28.892s  + 0.303s
14.  Jimmie Johnson      Hendrick Chevrolet           28.919s  + 0.330s
15.  Tony Stewart        Stewart Haas Chevrolet       28.950s  + 0.361s
16.  Trevor Bayne        Wood Brothers Ford           28.950s  + 0.361s
17.  Denny Hamlin        Gibbs Toyota                 28.960s  + 0.371s
18.  Paul Menard         Childress Chevrolet          28.963s  + 0.374s
19.  Brian Vickers       Red Bull Toyota              28.980s  + 0.391s
20.  Brad Keselowski     Penske Dodge                 29.020s  + 0.431s
21.  Jeff Burton         Childress Chevrolet          29.024s  + 0.435s
22.  Kurt Busch          Penske Dodge                 29.032s  + 0.443s
23.  Juan Pablo Montoya  Earnhardt Ganassi Chevrolet  29.037s  + 0.448s
24.  Bobby Labonte       JTG Daugherty Toyota         29.081s  + 0.492s
25.  David Reutimann     Waltrip Toyota               29.100s  + 0.511s
26.  Kevin Harvick       Childress Chevrolet          29.114s  + 0.525s
27.  Casey Mears         Germain Toyota               29.155s  + 0.566s
28.  Clint Bowyer        Childress Chevrolet          29.173s  + 0.584s
29.  Mike Skinner        FAS Lane Ford                29.230s  + 0.641s
30.  Kasey Kahne         Red Bull Toyota              29.273s  + 0.684s
31.  Joe Nemechek        NEMCO Toyota                 29.274s  + 0.685s
32.  JJ Yeley            Whitney Chevrolet            29.316s  + 0.727s
33.  Dale Earnhardt Jr   Hendrick Chevrolet           29.356s  + 0.767s
34.  Dave Blaney         Baldwin Chevrolet            29.506s  + 0.917s
35.  David Gilliland     Front Row Ford               29.507s  + 0.918s
36.  Landon Cassill      Germain Toyota               29.659s  + 1.070s
37.  Marcos Ambrose      Petty Ford                   29.674s  + 1.085s
38.  Robby Gordon        Gordon Dodge                 29.768s  + 1.179s
39.  Travis Kvapil       Front Row Ford               29.790s  + 1.201s
40.  Andy Lally          TRG Chevrolet                30.098s  + 1.509s
41.  Tony Raines         Front Row Ford               30.457s  + 1.868s
42.  David Ragan         Roush Fenway Ford
43.  Michael McDowell    HP Toyota                    29.708s  + 1.119s

Did not qualify:

     Brian Keselowski    K-Automotive Dodge           30.050s  + 1.461s