Panis continues with ORECA
| | |
| --- | --- |
| By Matt Beer | Friday, March 4th 2011, 16:47 GMT |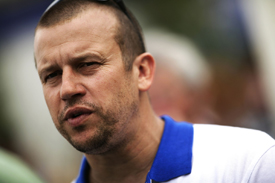 Olivier Panis will continue to race with ORECA this season, joining Nicolas Lapierre and Loic Duval in its Peugeot 908 for at least the first three rounds of the Intercontinental Le Mans Cup at Sebring, Spa and Le Mans.
ORECA boss Hugues de Chaunac admitted that the team had looked at other options for its third driver, but 44-year-old Panis had proved he still had the speed and motivation to keeping racing with the team for a fourth season.
"For the third driver we knew we had several options, each with different profiles," said Hugues de Chaunac.
"We studied each candidate seriously, but Olivier showed so much drive that we agreed to do a test session. It was held last week at the Paul Ricard HTTT circuit and it went perfectly.
"I must say that I was surprised by his motivation, which goes above and beyond what you would expect. It's an important factor. He performed at the expected level, which is higher this year.
"Olivier is also a natural leader. Just from his charisma, he is more than just a driver. He was up to speed immediately and he has been an important element in the overall cohesion of the team for several years. He also knows the Peugeot 908 HDi FAP."
Panis said he was still thoroughly enjoying racing and had no intention of stopping yet.
"I was happy to see the team again - there's still that nice atmosphere," said the 1996 Monaco Grand Prix winner.
"I hadn't driven a prototype since Budapest last August and it was important for me to know where I stand, both in terms of driving and motivation.
"I'm satisfied with the times I put in and I really enjoyed myself. I'm not ready to retire..."