| | |
| --- | --- |
| Honda says no magic in 2011 bike | |
| | |
| --- | --- |
| By Michele Lostia and Matt Beer | Wednesday, March 2nd 2011, 11:56 GMT |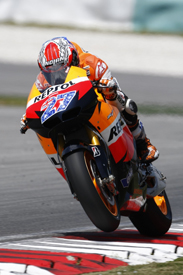 Honda says its winter leap forward is down to a series of small improvements rather than a major design breakthrough with its 2011 MotoGP bike.
The team, which last won a MotoGP title with Nicky Hayden in 2006, has shown commanding form in testing so far with its expanded three-bike works line-up of Casey Stoner, Dani Pedrosa and Andrea Dovizioso, while Marco Simoncelli's factory-specification Gresini bike has also been a frontrunner.
HRC executive vice president Shuhei Nakamoto said the progress was down to detail changes, and that Honda had been gaining ground last year too, but its form had been masked by Pedrosa injuring himself at Motegi.
"It's difficult to explain, but we've tried many things," Nakamoto told the official MotoGP website. "For each item we've improved, it's been small. But if you can find one hundredth, then you find ten of them, that's one tenth.
"Last year in the second half our results were not too bad until the accident at Motegi when Dani was trying to catch up with Jorge [Lorenzo]. We had found a direction for development, and we've kept that direction at HRC, with the engine, the suspension, the brakes etc. Every single small improvement is step by step, and now our machine looks competitive but of course we have to continue to develop."
Reigning champion Lorenzo said it was obvious from Honda's form that the whole team was in much better shape this year.
"All four riders with a works Honda are ahead: that means that it's the bike that has improved a lot, otherwise there would be just one rider going strong while the others would be behind," Lorenzo told Motosprint.
"We have managed to improve by almost one second compared to 2010. The problem is that our rivals have improved even more. At some points the difference in speed is as much as 8 km/h. At the moment Honda is the most powerful bike; Ducati is a close second; Yamaha is only third.
"Honda has improved in its handling too: I've followed the Honda riders a bit, and I have a feeling they now have an easier bike to ride. We'll see how our bike goes on other tracks, but at the moment Honda is making a difference with its engine."
But Nakamoto said Honda still had problems to resolve as well and was not in perfect shape yet.
"At this moment, all our Honda riders are complaining about braking stability," he said. "The braking is good, but after braking, they have hopping. So therefore we're concentraing on fixing this area. We're trying the clutch and the engine control system for that. It's getting better, but it's still an issue."