No issues with wing, Williams insists
| | |
| --- | --- |
| By Simon Strang and Matt Beer | Friday, February 25th 2011, 14:22 GMT |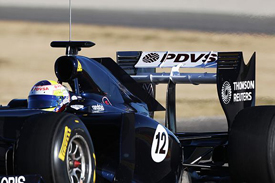 Williams technical director Sam Michael says he has no concerns about the level of vibration on the FW33's rear wing, amid suggestions that the way the wing is mounted in the radical design could cause problems.
The team's 2011 design features a very low and re-angled differential and gearbox, with the rear suspension wishbones mounted onto the central rear wing support.
Michael dismissed reports that this was causing excessive movement of the wing.
"We have done three tests on it and we have not had any problems," he told AUTOSPORT.
"It's not because it's mounted on the suspension, as some people have suggested. It's because it is mounted on a single [central] pillar. The rear lower wing is fully-floating. The main structural mounting point is at one place.
"Actually for the last test we added two little stays to the rear wing endplates and that has stopped all that lateral shaking.
"To be clear, it's not because it is mounted on the suspension pillar. The suspension pillar is not moving, it's just the fact that it is mounted on the central pillar and that's the only place we hold it.
"If we had a higher gearbox and we mounted our wing on a pillar, exactly the same thing would happen."
He also revealed that Williams has a substantial new package arriving for the final winter test next month.
"We have a new diffuser, new front wing, new brake ducts, new bargeboards and new bodywork," said Michael. "The only thing that is not changing at the moment is the rear wing."
AUTOSPORT Plus subscribers can read Sam Michael's full exclusive insight into the FW33 design by clicking here.