Bayne still committed to Nationwide
| | |
| --- | --- |
| By Diego Mejia | Wednesday, February 23rd 2011, 09:32 GMT |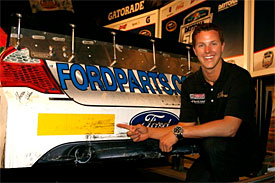 Daytona 500 winner Trevor Bayne is set to remain focused on winning the Nationwide Series title, turning down an eventual chance to contend for a berth in the Chase for the 2011 Sprint Cup Series.
The 20-year-old entered the season-opener as the first of a planned 17-race schedule in NASCAR's top series with Wood Brothers Racing, the legendary outfit only having funding for those events.
Following the win at Daytona, the team plans to add another race, entering the sixth event of the season at Martinsville but further additions rely on sponsorship.
Besides his deal with Wood Brothers, Bayne is signed to contest his second full season in the second-tier Nationwide Series with Roush Fenway Racing, where he currently ranks fifth in the points.
NASCAR rules for this year restrict drivers racing in more than one national series to contending for one title only, although they can compete in as many races as they wish all across NASCAR. The rule is aimed at allowing young drivers to have a shot at the championship, as Cup drivers have dominated the Nationwide Series in the past few years.
Bayne selected running for the Nationwide Series title this year and although NASCAR would allow him to change his mind and start scoring points for the Sprint Cup series from next weekend at Phoenix, his Daytona win would not count towards his points tally.
However, his win would count in terms of eventually being eligible to make the Chase, as this year the two drivers with the most wins not in the top 10 in points after the first 26 races earn a place in the championship playoff.
Despite all these, plus having no sponsor for his Nationwide Series car, Bayne says he remains committed to his initial plan.
"I think I'm going to stay with Nationwide," said Bayne. "I think it's a great thing they're doing for the sport, for the young drivers there, to be able to rise up as champions. Nothing really changed. The only thing that changed is we get to be the Daytona 500 champions, which is really, really incredible.
"I think we're still going to have an awesome year at Roush Fenway running for that Nationwide championship. Obviously they still have a blank car. I'd love to get some partners on it. As for now, we're still running full-time.
"The Wood Brothers only have 18 races, 17 with Ford Motorcraft, and Quick Lane and Ford.com. But the 18th race is the one we're going to run at Martinsville due to the funds we won at Daytona.
"I'm still not full-time Cup, still going to run for the championship at Nationwide. I don't regret any of our decisions there. We're still off to a great start in both series with a win in the first."
Bayne says Sunday's victory, his first ever in NASCAR, has yet to sink in and says many of his rivals have called to show their support and congratulate him on his accomplishment.
He says, however, that a call from the White House is the one that left him stunned.
"I don't know how to thank [Wood Brothers Racing] enough for the opportunity to drive that race car, be in that position to win," Bayne said. "I mean, it's taken its time to sink in.
"The high point was when the White House called and said the President was going to want to talk to me in the next couple days. I haven't talked to him yet. I had no idea who it was. Just a private number came up on my phone. Jimmie Johnson called, Jeff Gordon. All of them have been showing their support, but that one was the one that shocked me the most."
Despite his age, Bayne has shown great appreciation for his team's history and legacy. Wood Brothers has been in NASCAR for more than 60 years, having most of its golden years in the 1970's with David Pearson, who developed a great rivalry with Richard Petty while winning 43 out of the outfit's 98 victories to this day.
Bayne credited Pearson for giving him a key advice while entering the event and he believes his win driving the same #21 that Pearson turned into an icon, finally did some justice to NASCAR's longest standing outfit.
"Talking to David Pearson, it was small, simple advice that a lot of people would tell me," said Bayne. "Just with him it stuck. He was just saying, kind of jokingly, they asked him on ESPN if he had any advice. He said, Be careful. Do the 21 car some justice. That stuck out.
"I entered that race with a totally different mindset than I normally had. As a 19-, 20-year-old, you manage a lot of your things off of performance. You want to be the guy that leads every lap, you want to make a statement, you want to do everything right. You put a lot of pressure on yourself.
"When he said that, I went into the race in kind of survival mode for the first 150 laps thinking, I have to get to the end of this, avoid any crashes, push, not be pushed, just be smart the whole time. That was crucial because that kept me calm, that kept me patient when we would drop to the back on some of the restarts to push back up to the field. Then at the end, just to make smart moves.
"Hopefully we did the 21 car some justice like he asked us to do. I think seeing him back in Victory Lane might have done it for him, so I hope so."
Bayne, the youngest winner in the history of the Daytona 500, earned a total prize money of US$1,463,813 for his victory in what was just his second outing in the Sprint Cup series.