Rosberg tops Barcelona day three
| | |
| --- | --- |
| By Matt Beer | Sunday, February 20th 2011, 16:09 GMT |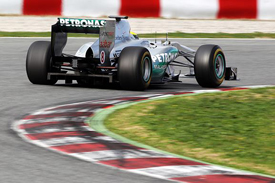 Nico Rosberg put Mercedes on top with a rapid late lap in a Barcelona testing session that began wet before later drying.
A shower at the start of the morning and a combination of high humidity and low temperatures meant it was not until the eve of the lunchbreak that drivers were able to try slick tyres, and even then conditions remained treacherous, with lap times five seconds off yesterday's fully-dry pace even on slicks.
But by the afternoon only a few off-line damp patches remained, and Rosberg made the most of the clear running to go quickest with a 1m23.168s on a single-lap, qualifying-style, run with a quarter of an hour to go. He had earlier done a 15-lap stint mostly in the 1m29s/1m30s region.
Renault's Vitaly Petrov took second, 0.295 seconds slower than Rosberg. He had missed much of the wet early running, but a busy afternoon meant he still accumulated over 90 laps through the day. Like Rosberg, his best times came on some short one, two and three-lap runs in the closing stages.
McLaren suffered further reliability problems in the morning, forcing Lewis Hamilton to repeatedly abandon planned stints and return the garage after single laps.
Once the car was running, Hamilton was quick - setting some of the best slick-tyre times in the closing stages of the morning and then going third in the dry. His best laps were also from short qualifying-type bursts, with his pace nearer 1m29s, 1m30s when on longer runs, though this was clouded by the McLaren backing off to get aero data on occasion.
Pastor Maldonado (Williams), Sergio Perez (Sauber) and Felipe Massa (Ferrari) all caused red flag stoppages by spinning in the wet - twice in Massa's case. While the Sauber and the Ferrari were soon cleaned and sent back out, Maldonado lost further time with an alternator problem, though he made up for it by taking fourth in the end - his 1m24.815s coming on the first tour of a five-lap run.
Mark Webber caused the final red flag, bringing the session to an end two minutes ahead of schedule as he stopped his Red Bull on the circuit. He was fifth in the order, his session-best 1m24.995s coming on his first lap out of the pits following a tyre change during an afternoon race simulation, and at the start of a 17-lap stint before his next stop.
Water leaks again hampered Lotus, but the car showed good pace as Jarno Trulli took sixth ahead of Perez and Force India's Adrian Sutil.
Toro Rosso running was shared between test driver Daniel Ricciardo and Sebastien Buemi. Ricciardo was a star of the morning, setting a very impressive pace on slicks during the changeover in conditions. He was only narrowly beaten by Hamilton as the lunchbreak began, leaving him 13th in the end-of-day times having not run in fully dry conditions. Buemi was ninth after his 31 laps.
Hispania also split its running between two drivers. Narain Karthikeyan was well up among the established teams in the mixed wet/drying conditions of late morning, though he was last in the order in the end having sat out the afternoon so that Giorgio Mondini - a former Midland test driver - could make a Formula 1 return.
The Swiss driver covered 39 laps and did a respectable job considering his long absence from the F1 cockpit. He was 5s off the outright pace and within 1.6s of Timo Glock's Virgin.
Pos  Driver              Team/car              Time       Gap       Laps
 1.  Nico Rosberg        Mercedes              1m23.168s            92
 2.  Vitaly Petrov       Renault               1m23.463s  + 0.295s  93
 3.  Lewis Hamilton      McLaren-Mercedes      1m23.858s  + 0.690s  93
 4.  Pastor Maldonado    Williams-Cosworth     1m24.815s  + 1.647s  60
 5.  Mark Webber         Red Bull-Renault      1m24.995s  + 1.827s  139
 6.  Jarno Trulli        Lotus-Renault         1m25.454s  + 2.286s  48
 7.  Sergio Perez        Sauber-Ferrari        1m25.557s  + 2.389s  115
 8.  Adrian Sutil        Force India-Mercedes  1m25.720s  + 2.552s  102
 9.  Sebastien Buemi     Toro Rosso-Ferrari    1m26.155s  + 2.987s  31
10.  Felipe Massa        Ferrari               1m26.508s  + 3.340s  123
11.  Timo Glock          Virgin-Cosworth       1m26.598s  + 3.430s  97
12.  Giorgio Mondini     Hispania-Cosworth     1m28.178s  + 5.010s  39
13.  Daniel Ricciardo    Toro Rosso-Ferrari    1m28.329s  + 5.161s  42
14.  Narain Karthikeyan  Hispania-Cosworth     1m30.722s  + 7.554s  32

All timing unofficial