Schumacher predicts wins, not title
| | |
| --- | --- |
| By Geoff Creighton and Matt Beer | Friday, February 18th 2011, 16:34 GMT |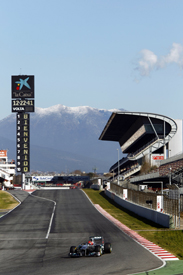 Michael Schumacher says his current expectation is that Mercedes can aim for a grand prix victory in 2011 but probably not a world championship bid.
The team had appeared to be struggling early in pre-season testing, though it emphasised that it was focusing on reliability ahead of the arrival of a substantial upgrade for Bahrain. Schumacher then showed better form by going quickest at Jerez last Friday.
Today at Catalunya the seven-time champion was only eighth-quickest, but did complete a race simulation.
Schumacher said that while he still preferred not to judge Mercedes' potential until the W02 was in its definitive 2011 specification, he felt at present that the odd race win would be the limit of its potential.
Asked what he felt Mercedes' target for 2011 was, Schumacher replied: "The target is still the same as we said weeks ago: to hopefully be, with this car, on the podium and maybe, if things go very well, to win a race this year.
"That's probably the maximum we can talk about, but it is very difficult to judge our performance at the moment against the others because obviously we will improve the car a little bit further to the Bahrain race.
"But, how much compared to the others, that's the question mark."
He was encouraged by the mileage that he had been able to complete today.
"We had a good day and it's certainly satisfying to finish a race distance and to have everything working fine," Schumacher said.
Nico Rosberg now takes over the Mercedes for the next two days before Schumacher returns on Monday.