Heidfeld says form impossible to predict
| | |
| --- | --- |
| By Steven English and Pablo Elizalde | Friday, February 18th 2011, 16:08 GMT |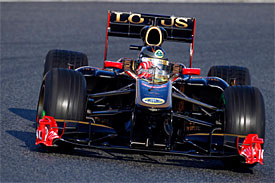 Nick Heidfeld says it is impossible to predict the form of his Renault team ahead of the start of the 2011 season.
The German has joined the team to replace the injured Robert Kubica, who had been quickest in the opening test of the year at Valencia before his accident.
Heidfeld also was amongst the quickest at Jerez last week.
Despite Renault's promising times, Heidfeld admits predictions are impossible to make, although he hopes his team can spring a surprise this year.
"Each team always hopes that at the beginning of the season," Heidfeld told reporters at Barcelona. "Red Bull hopes that it will win again. the only difference is that it would not be a surprise for them. The targets are quite high but it's still very early season.
"It's impossible to say. I know you always get the same answer in the winter but truthfully I think everybody is in the dark at the moment. We try to do our simulations but it's tough. We believe, as do most others, that the Red Bull again is very, very strong.
"So far I'm very happy. How everything is changing in the right directions. Everybody is very motivated and it's nice to be a part of that. They are very open and the target is to move forward and I'm very happy with that. I have this chance and I will take it."
Heidfeld, who was the first test driver for Pirelli last year, feels having worked with the Italian tyres early on will prove beneficial for him this season.
"I wasn't really involved with the compounds, I tested more the construction, but the tyres should suit me. For sure it's a benefit," he said.
Despite his bigger experience compared to team-mate Vitaly Petrov, the German said he is not expecting to be the number one driver at Renault.
"Well, I will try to do my best. That is not actually something I focus on, it comes automatically. In all the teams in the past I have never been a number two driver. We were treated very equally and I believe it is the same here."
And he believes it was important for Renault to choose an experienced driver to replace Kubica, in order to carry the weight of the development of the car.
"I think it's important to have someone who is developing the car, who has the speed and is working together with the engineers to discuss where to go. I already think we had a good, productive test in Jerez. We were quite quick at finding some of the problems, and also some of the strong points."