Rosberg still upbeat on Mercedes form
| | |
| --- | --- |
| By Jonathan Noble | Monday, February 14th 2011, 14:58 GMT |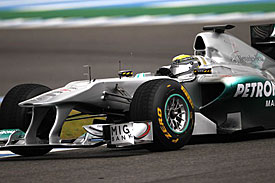 Nico Rosberg says he is remaining upbeat about Mercedes GP's potential for the 2011 season - despite the mixed fortunes that the team has endured in early testing.
Although Michael Schumacher topped the times on the second day of last week's Jerez test, the team's W02 has appeared to struggle for overall performance compared to main rivals Red Bull Racing and Ferrari.
Allied to reliability problems that Rosberg in particular has suffered, expectations surrounding the outfit have been dampened.
Rosberg, however, is keeping to his belief that a major upgrade pencilled in for Bahrain can lift the team's fortunes for the start of the season.
"Yes, we weren't too fast in Valencia but with Michael's two days of running in Jerez we are obviously heading in the right direction," Rosberg told the official Formula 1 website.
"Despite what people believe we weren't running in qualifying spec when he did his times - we still had a buffer. My running obviously was not so blessed.
"I only ran for 45 laps on the last day of the Jerez test because of a precautionary engine change. Unfortunately I haven't been able to do as many laps as I would have liked, but overall I see a development for the better and to get better every single lap counts."
Rosberg is sticking to his belief that Mercedes GP's focus at the moment is not on lap times – but in getting perfect reliability.
"One thing that should be made very clear is that this car that we've been running so far is not our Bahrain car. This car is here to improve reliability and do the maximum mileage possible. A big step will be introduced later in the test season."
When asked in what areas the car would be upgraded, he said: "I am sure many would like to know that answer. Let me put it this way - it will be in all areas of the car."