Ostberg: Sweden form not a one-off
| | |
| --- | --- |
| By Matt Beer | Monday, February 14th 2011, 10:56 GMT |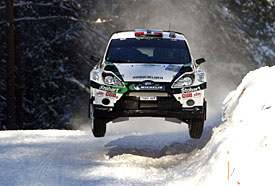 Rally Sweden star Mads Ostberg is confident he can repeat the form that saw him lead much of the 2011 World Rally Championship opener and finish a close second to Mikko Hirvonen.
Ostberg joined the Stobart Ford team this year after previous frustrating partial campaigns in privateer Subarus. He immediately showed his true potential in Sweden, opening up a half-minute lead on day one despite minimal testing in the WRC version of the Ford Fiesta.
Although his Friday speed was asssisted by a favourable running order position, Ostberg held on to second place even after works Ford driver Hirvonen took the lead on Saturday, and finished just 6.5 seconds away from victory.
"I definitely hope it won't be my last podium finish and hopefully not the last time I set some pressure on Mikko either," said Ostberg.
"It's been good this weekend and I really enjoyed the Fiesta. It's possible to do some good results during the whole of the season but we are doing some rallies this year that we haven't done before.
"But we feel quite confident in ourselves, in the car and in our team so I hope we can fight for good positions on the next events as well."
The 23-year-old Norwegian played down his chances of another podium in round two in Mexico next month. As well as being unfamiliar with the rally, his Sweden result means he will start the next event second on the road.
"It's Mexico next and I can't hope for the same thing we have done here, but we go to Mexico to learn about the rally and more about the car on gravel and we will see on the next events after that when we come to more familiar ground when I hope it will be possible to do some good results again," Ostberg said.
Ford team director Malcolm Wilson said Ostberg had impressed not only the team, but also works drivers Hirvonen and Jari-Matti Latvala.
"These are the two experts; Mikko and Jari and they've already commented on how well he's driven but it's been a big step for Mads," said Wilson.
"He's been really consistent and coped with a lot of pressure [on Saturday] and then of course put a bit of pressure on Mikko [on Sunday]. I don't really thank him for that, but I have to say he's done a fantastic drive and he deserves to be where he is."