Hirvonen resists Ostberg for victory
| | |
| --- | --- |
| By Matt Beer | Sunday, February 13th 2011, 14:48 GMT |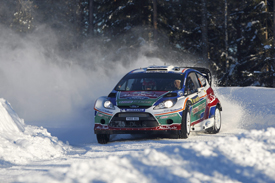 Mikko Hirvonen held off Mads Ostberg to win the first event of the World Rally Championship's new era by just six seconds after three thrilling days in Sweden, as Fords filled the podium.
The 2011 season-opener will be remembered equally for the spectacularly close competition offered by the latest generation World Rally Cars - with just 15s covering Hirvonen, Ostberg, Petter Solberg, Jari-Matti Latvala and Sebastien Ogier starting the final day - and the emergence of Ostberg as a potential winner.
In his first event in a competitive car, the former Subaru privateer opened up a half-minute lead on his first day with Stobart Ford, making the most of running 10th on the road.
The lead quintet concertinaed on Saturday as stage conditions slowed those at the head of the running order, but road position was less of a problem this morning, when Hirvonen - who had overhauled Ostberg halfway through leg two - pulled away from his pursuers.
Then on the final loop this afternoon Hirvonen found loose snow more troublesome than before and started losing time to Ostberg, who went into the deciding Gustavsfors stage just 4.9s off the leading factory Ford.
However Hirvonen had enough in hand on the 4.16km course to hold off Ostberg and claim his first win since the same event a year ago, while Ostberg secured his maiden WRC podium.
"I was fairly nervous before the last stage," Hirvonen admitted. "It's been a fantastic start by the team - a new car and victory straightaway."
Ostberg was more than happy with second despite coming so close to victory.
"It's unbelievable," he said. "Today has been difficult. We tried a little bit to catch Mikko but he was quite quick and I didn't dare to push as hard as I could. Second overall in Sweden, I'm absolutely happy with that."
After a disappointing morning today, Latvala (Ford) regained confidence and flew through the final loop, winning two of the three stages to move back into third place ahead of Ogier, who was less happy with his car following service.
Ogier claimed three extra bonus points by winning the first Power Stage - with the final stage of the event shown live on television and extra points awarded to the top three. Loeb and Latvala completed the Power Stage scorers.
In a bizarre finish to the rally, fifth-placed Solberg had to hand his car to co-driver Chris Patterson for the final road section and special stage, the Norwegian having been caught speeding by Swedish police earlier in the event. Patterson brought the car carefully through the stage to finish fifth.
World champion Sebastien Loeb never featured at the front. Running first on the road in the worst of the snow on Friday was a huge handicap, and with two punctures and a loss of power from a snow-blocked intake slowing him further, he had to settle for a lonely sixth for Citroen.
In a one-off Ford appearance paid for by a fundraising drive among fans, P-G Andersson had a weekend of incidents interspersed with stage wins, leaving him a frustrated seventh thanks to all the delays.
Kimi Raikkonen made an encouraging start to 2011 by bringing his Ice 1 Citroen to the finish in eighth. He starred on the second loop of leg two, when he set a string of top-six stage times.
Of the other WRC entries, Matthew Wilson (Stobart Ford) won a late battle with Khalid Al Qassimi (Abu Dhabi Ford) for ninth, with top-class newcomer Dennis Kuipers' FERM Ford 13th and Ken Block (Monster Ford) 14th after a weekend of building snow experience.
Henning Solberg might have been in the podium fight in the other Stobart car, but after charging up the order on Friday afternoon, he crashed out on Saturday's first stage.
Martin Semerad cruised to an easy Production class win once early lead combatants Anders Grondal and Patrik Flodin retired and were excluded respectively.
S2000 drivers Patrik Sandell and Eyvind Brynildsen were sensationally fast in Friday's snowy conditions, setting top-six times overall. While Brynildsen dropped out with an engine failure, Sandell clung on in the points until the final morning, ultimately finishing 11th.
Leading finishers:

Pos  Driver              Team/Car           Time/Gap
 1.  Mikko Hirvonen      Ford             3h23m56.6s
 2.  Mads Ostberg        Stobart Ford         + 6.5s
 3.  Jari-Matti Latvala  Ford                + 34.0s
 4.  Sebastien Ogier     Citroen             + 47.7s
 5.  Petter Solberg      Solberg Citroen   + 1m31.2s
 6.  Sebastien Loeb      Citroen           + 2m30.3s
 7.  P-G Andersson       Ford (private)    + 6m22.0s
 8.  Kimi Raikkonen      Ice 1 Citroen     + 7m02.3s
 9.  Matthew Wilson      Stobart Ford     + 10m11.5s
10.  Khalid Al Qassimi   Abu Dhabi Ford   + 10m31.1s

Other WRC finishers:

13.  Dennis Kuipers      Ferm Ford        + 13m57.7s
14.  Ken Block           Monster Ford     + 16m51.8s

WRC retirements:

     Henning Solberg     Stobart Ford            SS8