Vettel hopes Kubica will rally again
| | |
| --- | --- |
| By Glenn Freeman and Matt Beer | Saturday, February 12th 2011, 17:37 GMT |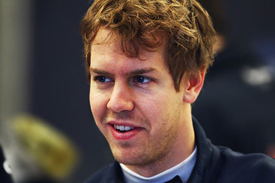 World champion Sebastian Vettel hopes Robert Kubica will continue to go rallying as a sideline once he is fit enough to return to Formula 1 - despite the Pole suffering severe injuries in a rally crash last weekend.
Kubica required lengthy surgery to save his right hand and also sustained multiple fractures in his right arm and leg when an accident in a rally in Italy last Sunday left his Skoda Fabia impaled on a crash barrier.
Vettel said he was pleased that the news about Kubica's recovery had been encouraging so far.
"First of all I think the most important message was that he didn't lose his hand, everything is still there and as far as we heard after the operation he's had quite a good recovery already," said the Red Bull driver.
"The most important thing is he's coming back to his normal strength and normal health, which will take a long time probably. He's quite young considering his life, so it's important that everything works naturally."
Kubica's incident has led to suggestions that Formula 1 teams should restrict their drivers' outside activities, but Vettel hopes Kubica is not prevented from rallying in the future, as he believes the accident was a freak one.
"We hope that very soon he will be strong enough to drive a Formula 1 car again and maybe do some rallies again - because he loves rallies a lot, he is a big fan," said Vettel.
"It was not his first rally and I think it was a very unlucky place to crash. I think he was lucky in the end, but also obviously very unlucky.
"Obviously it was a big shock for all of us. You hear a lot of stories when something happens. The most important thing is he's alive and he didn't lose his hand.
"I think he knows that there is always a risk when you do things like that, the same as when you go out here [in F1]. Motorsport is like that. He's had quite a lot of big crashes in his career so far - most of the time not his fault."
Vettel hinted that he would be interested in trying rallying in the future as well, but joked that he would choose his event carefully.
"I still think rallying is a very fascinating sport," he said. "One day I might do it myself, but obviously when you get this kind of message it's a big shock.
"Maybe if I should rally at some stage I'll start in the snow where there are no barriers..."