Hirvonen heads ultra-close top five
| | |
| --- | --- |
| By Matt Beer | Saturday, February 12th 2011, 16:14 GMT |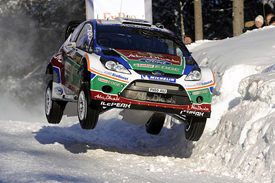 Mikko Hirvonen leads a top five covered by just 15 seconds as Rally Sweden heads for a spectacular final-day shoot-out.
First cars on the road Mads Ostberg and Hirvonen found themselves struggling much more this afternoon as the stages had been used by the Swedish championship entrants since the opening loop, creating new problems with snow clearance as the smaller cars cut a different line.
That allowed Petter Solberg, Jari-Matti Latvala and Sebastien Ogier to close dramatically on the leaders, with Latvala and Ogier in particular much more comfortable with their set-ups on this loop as well.
Hirvonen (Ford) lost a little of his lead with a spin on the Sagen stage, and with just the Karlstad superspecial to go this evening, he heads Ostberg by 7.5s, Solberg by 9.9s, Latvala by 11.8s and Ogier by 14.8s.
"Tomorrow if it's like today and I'm first on the road, I don't have a chance," Hirvonen admitted. "But you never know. All I can do is go flat-out.
"It's been so difficult today because all those Swedish championship drivers are making the lines in completely the wrong place, but tomorrow they won't be there so it's not too bad."
Long-time leader Ostberg said running first on the road had been almost impossible on this loop.
"It's been absolutely very difficult today," said the Stobart Ford driver. "I expected it to be quite a lot better on the second pass through the stages but it was quite a lot worse.
"It's been a terrible afternoon for us and it's quite frustrating. But that's how it is, so we've tried to stay calm and not do anything stupid because it is not possible to do anything else."
Solberg may yet find himself with the overnight lead if his appeal against a 10s penalty for being late at a time control is successful. The Solberg Citroen driver was adamant that the penalty was unfair as he had been delayed by vehicles blocking the way to the stage.
Latvala had looked capable of grabbing the lead by the end of this loop, such was his upsurge in pace as he found the conditions ideally suited to his driving style. But he slowed near the end of Varmullsasen to ensure a better road position for tomorrow, a Ford team decision Latvala appeared disappointed with as he also handed third back to Solberg.
"I don't know what the best solution was," Latvala said. "It was a difficult situation. We did what the team asked us to do."
Citroen won all four of this afternoon's stages, with three fastest times for Sebastien Loeb and one for Ogier. With Loeb's earlier delays meaning he is still 1m41.5s off the lead in sixth, Ogier is the team's main hope - but he insists he will continue to drive cautiously.
"This was almost perfect," he said. "Now we have a very good feeling with the car and we will try to do our best tomorrow.
"But as from the start of the rally - no risks at all, because I know the season is long."
Kimi Raikkonen also picked up speed this afternoon in his Ice 1 Citroen. He was in the top six on all four stages and has moved up to seventh, helped by P-G Andersson having power steering problems and Patrik Sandell spinning on Sagen.
Stobart now has two cars in the top 10 as Matthew Wilson has regained ground following steering issues yesterday.
Pos  Driver              Car        Time/Gap
 1.  Mikko Hirvonen      Ford     2h33m16.2s
 2.  Mads Ostberg        Ford         + 7.5s
 3.  Petter Solberg      Citroen      + 9.9s
 4.  Jari-Matti Latvala  Ford        + 11.8s
 5.  Sebastien Ogier     Citroen     + 14.8s
 6.  Sebastien Loeb      Citroen   + 1m41.5s
 7.  Kimi Raikkonen      Citroen   + 5m03.0s
 8.  P-G Andersson       Ford      + 5m31.0s
 9.  Patrik Sandell      Skoda     + 7m41.5s
10.  Matthew Wilson      Ford      + 7m41.9s