Symonds takes on Virgin role
| | |
| --- | --- |
| By Adam Cooper and Jonathan Noble | Friday, February 11th 2011, 18:44 GMT |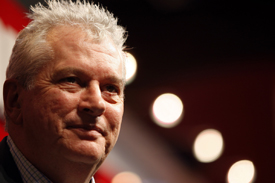 Pat Symonds is to return to Formula 1 in a consultancy role after agreeing a deal to help out the Virgin Racing team.
The former Renault technical director has been out of the sport since he left the Enstone-based outfit in the wake of the 2008 Singapore Grand Prix race-fixing controversy.
He has spent his time since then involved in numerous other engineering and motorsport projects for his own consultancy business Neutrino Dynamics.
Although that had not included any current F1 teams up until now, last year he did help out one of the candidates that was pushing for a new entry for 2011.
Virgin Racing president Graeme Lowdon has confirmed that Symonds is now helping out his team - and that he believed his input would be useful.
"Pat is retained by one of our shareholders as an advisor, and he's advising the team," Lowdon told AUTOSPORT. "He's allowed to do consultancy work through his company. Quite a few people in the team have worked with him in the past and all the technical guys are really, really excited. I can see only positive things."
As part of a deal Symonds agreed with the FIA he cannot work full-time for a team until 2013, but he is allowed to work on a consultancy basis.
Speaking at the AUTOSPORT International Show earlier this year, Symonds expressed his hope that he would return to an F1 role in the near future.
"There are still lots of things I want to do," he said. "I am working as a consultant now and I am doing a lot of work in racing as well as in other areas. I still have a love of F1 because of the engineering. I absolutely have a passion for racing - you cannot keep me away."