Piquet: F1 teams will restrict drivers
| | |
| --- | --- |
| By Diego Mejia | Friday, February 11th 2011, 15:44 GMT |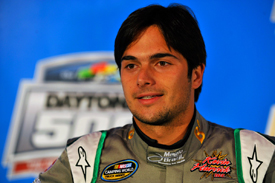 Nelson Piquet believes Robert Kubica's rally accident will make Formula 1 teams become more strict with their drivers' off-track activities.
The Brazilian, who drove for Renault's F1 team between 2008 and 2009, said he hoped to see Kubica make a full recovery from the injuries he sustained in his crash in the Ronde di Andora Rally last Sunday - but reckons the Pole would have had to pressure Renault into letting him contest the event.
Speaking at Daytona, where he is set to contest the season-opening round of the NASCAR Camping World Truck Series next week, Piquet said that back in his time with Renault he felt the team was very "protective" in regards to his activities beyond F1.
He expects after Kubica's incident F1 outfits will be less likely to allow their drivers to enter other forms of racing.
"I was shocked," said Piquet about learning of Kubica's accident. "But I know, because I still speak to a lot of people at Renault, he's quite hard-headed.
"This rally story, he really wanted to do it. The team wasn't very convinced in that and most of the teams are very protective, Renault as well.
"I remember when I was there and I wanted to do a go-kart race, I had to ask them and they were always a bit sceptical about it, they didn't know if they really wanted to let me do it. I'm sure in Robert's case, he pushed until they said 'okay'.
"Obviously he was very unlucky and I really feel bad for him. I hope he gets well quickly but I guess this is going to change a lot of things in F1.
"I think a lot of teams are going to make the contracts stricter, and they are going to be much more strict with the drivers in allowing them to do this or that.
"The way it was a few years ago, when a driver couldn't ski, I think throughout the years it loosened up and now with this unfortunate incident happening I'm sure you're not going to see an F1 driver in a racecar outside of an F1 track."