Renault won't restrict drivers' activities
| | |
| --- | --- |
| By Glenn Freeman | Thursday, February 10th 2011, 18:56 GMT |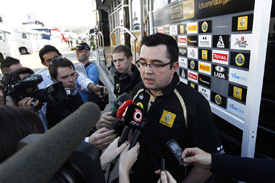 Renault team boss Eric Boullier will continue to let his drivers pursue potentially dangerous activities outside of racing, despite Robert Kubica injuring himself on a rally.
The Pole's crash in a Skoda Fabia last weekend has prompted many questions about whether drivers should be allowed to spend their free time putting themselves at risk.
But Boullier told reporters at Jerez that he will not change his mind on the freedom given to his drivers.
"I'm sorry, I stick to my point of view," he said. "I am a racing guy, and I know Robert for five or six years. He is a racer.
"He is like a wild cat. If you put him in a cage, you make him mad. So why do it? He loves karting, rallying, Formula 1."
Boullier also accepted that his opinion might come in for some criticism given the predicament Renault is now in on the eve of the season.
"Everybody can have an opinion on this," he said. "At the end of the day we do what we believe is best for the team and the driver.
"Yes it is very unfortunate and sad that he is in hospital, but before he got to this corner [on the rally] he was the happiest man in the world."
Renault will test Nick Heidfeld this weekend, and the German will land the drive if he impresses the team enough.