Grosjean not feeling overlooked
| | |
| --- | --- |
| By Matt Beer | Thursday, February 10th 2011, 16:59 GMT |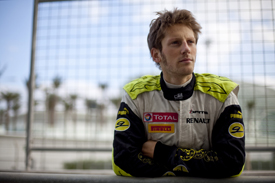 Renault reserve Romain Grosjean says he is not concerned that the team did not consider him as a potential stand-in for the injured Robert Kubica.
Although Grosjean and Bruno Senna were named as official reserves at the Renault launch last week, the team said that Senna would take priority if a vacancy arose - and has now made the more experienced Nick Heidfeld the favourite to take Kubica's place.
But Grosjean said he did not feel he had been snubbed, as he had never expected to be back in Formula 1 before 2012 and was focused on GP2 Asia at present in any case.
"I am ready if they call of course but there is GP2 Asia at the moment and this is where I am," he said after taking pole for the GP2 opener in Abu Dhabi.
"I think [management organisation] Gravity and me, we have the target to be in Formula 1 in 2012. That's the goal so at the moment we go step by step.
"If [Renault] call me of course I will go, but if they have another idea, I am part of the team and I accept it. I will always support the team as I give my support to Robert at the moment."