| | |
| --- | --- |
| Lorenzo: Yamaha needs to improve | |
| | |
| --- | --- |
| By Michele Lostia and Pablo Elizalde | Wednesday, February 9th 2011, 10:14 GMT |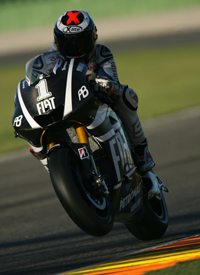 MotoGP world champion Jorge Lorenzo says this year's Yamaha is still not as competitive as he would want, the Spaniard admitting the engine is lacking power.
"In my opinion we haven't made a clear leap forward," Lorenzo was quoted as saying by Motosprint. "I know exactly what we need, but we haven't got there yet.
"We need more power, so more speed when accelerating, and better traction, always for the same goal: we aren't strong yet at turn exit.
"The new engine is more or less like the previous one. The most evident progress is in the anti-spin system, because it's more efficient now. I'm happy with that. It does help, but we need more horsepower.
"I don't like the new chassis, because there's more chatter. But I'm not particularly worried about that. I repeat: the priority at this time is power," added last year's champion.
Honda riders set the pace in the opening test of the year at Sepang, with Lorenzo only fourth quickest overall.
The Yamaha rider claimed his team will need to take a step forward in order to be able to enjoy the kind of success seen last year.
"Yes, laptimes are good, but at the moment, with this bike, it's difficult to do better," he said. "I would like a better bike, and this is what I've asked of the engineers. I think every rider asks for that.
"I'm not saying it's not a winner anymore: I'm saying that in order to win the number of races won last year we need progress. At the moment, I think this bike would not enable me to repeat a successful season like 2010.
"Honda is going very well: they started to make up ground midway through last year and now they've made another step forward. This must worry us."
He also conceded his new team-mate Ben Spies was strong than he had anticipated.
"Spies is strong. Honestly, he is faster than I expected. Simoncelli has improved a lot, he's done a great laptime. Surely Honda helps him, but in order to go as quick as he has, it means that he's made a lot of progress too.
"The competition is getting stronger and stronger: this will be a tough, hard-fought season. That's why I would like us to do a big step forward too."