Force India plans aggressive programme
| | |
| --- | --- |
| By Jonathan Noble | Tuesday, February 8th 2011, 16:31 GMT |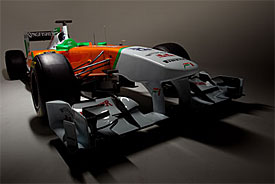 Force India plans an aggressive development programme for its new VJM04 in a bid to ensure it avoids the drop off in performance that marred its results in the second half of last year.
The team launched its new VJM04 on Tuesday, and openly said its target for the season ahead was to finish fifth in the Constructors' Championship.
Technical director Andrew Green believes that a big push on both the aerodynamic front, and optimising its blown diffuser concept, would be key to delivering on that by maintaining strong form throughout the 20-race campaign.
"Exhaust management will be a big area of development this year," he explained. "There will be an upgrade for the first race, so there are some changes that will come into effect at the Bahrain test. Further down the line there are some big updates for the front of the car coming in for the first European race.
"Towards the end of last season there was a drop-off in our relative performance. In theory we were adding performance to the car, but it wasn't getting translated to the track. We decided to have a very close look at what was happening on the car, and what could be causing this.
"The bottom line is we didn't extract the most from the blown diffuser, thus over the winter we've taken a reasonable philosophy chance on the aerodynamics of the car in order to try and prevent the sort of drop-off in performance that we saw at the end of last year."
Force India has also spent some time ensuring it can get a better understanding on the new Pirelli tyres, and has hired former Bridgestone chief engineer Jun Matsuzaki to help it on this front.
The team is also keen to make inroads to the performance of its VJM04 in high-downforce spec, with Force India having a tradition of producing efficient cars that are very good in low-drag configuration.
"Looking back over the years the cars we have produced here have always struggled at the high downforce tracks - they always been 'slippery' cars," explained Green. "We've identified a problem, and now we have to fix it, and it means that potentially there's another strategic aero change coming as well."
He added: "There are some big developments in the pipeline, probably bigger than this team has seen for quite a while. I think we're looking for a much stronger finish to the season, and we do recognise the fact that there's an Indian GP on the calendar, and we are an Indian team. The plan is to be putting stronger performance on the car through the year that will lift us up the ranks."