Kubica informed of extent of injuries
| | |
| --- | --- |
| By Simon Strang and Michele Lostia | Monday, February 7th 2011, 11:17 GMT |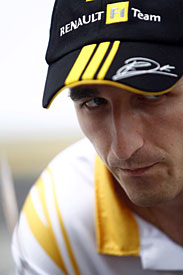 Robert Kubica has been informed as to the extent of his injuries incurred during his rallying accident in Italy on Sunday, according to his manager Daniel Morelli, who also reported that the Renault Formula 1 driver had full 'cerebral function'.
The Pole suffered a partially severed right hand and fractures to his right arm and leg after a barrier penetrated the Skoda he was driving on the first stage of the Ronde di Andora rally.
The 26-year-old underwent a seven-hour operation at the Santa Corona Hospital in Pietra Ligure in an attempt to save mobility in the hand. Doctors treating him said it would be several days before it could be deemed to have been successful though.
"I have finally talked to him and Robert has shown he understands everything perfectly," Morelli was quoted by IVG.it. "His cerebral activity is intact and we are extremely relieved.
"This really gives good hope. Obviously he feels a lot of pain to his leg and hand. He'll need time."
The hand specialist Dr Igor Rossello who took part in the operation was cautiously optimistic about Kubica's progress since the procedure, describing the results as 'extremely satisfying'.
He was quick to point out however that it was too early to predict whether Kubica's hand function had been permanently restored.
"The night has been very quiet, the patient is stable," said Rossello. "The hand seems to respond well to stimulus, and vascularity looks re-activated. Late this morning we'll awake Kubica who, at the moment, is unconscious.
"It's too soon to say whether the operation went well and, as I said yesterday, we'll need between five and seven days to understand if the limb's blood supply is okay and a lot more time to evaluate its functionality.
"It was a difficult operation but the final result is extremely satisfying."
Renault team principal Eric Boullier said he expected Kubica to miss at least the first two months of the 2011 Formula 1 season. Speaking to the BBC, Boullier believed the Pole would not drive an F1 car until at least the Spanish Grand Prix in May.
Boullier also reiterated in an interview with ANSA that Renault backed Kubica's decision to take part in the event, despite its close proximity to the start of the new F1 season.
"Rallying is what Robert loves to do," he said. "We knew the risks and so did he. We didn't want a robot or a corporate man for a driver. It was agreed together."