Herck fastest in GP2 testing
| | |
| --- | --- |
| By Matt Beer | Sunday, February 6th 2011, 15:20 GMT |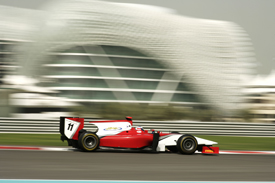 Michael Herck was quickest for Coloni as GP2 testing in Abu Dhabi resumed today ahead of next weekend's Asia series opener.
The teams switched to a 2.939-mile configuration of the Yas Marina track for today's test, and will also use this layout for the forthcoming races.
Herck emerged on top of an extremely close afternoon session during a late exchange of fast times following a red flag near the end of the day.
The Coloni driver's 1m36.467s lap beat AirAsia's Davide Valsecchi and iSport's Marcus Ericsson by just 0.01 seconds as the Italian and Swede matched each other's exact lap times.
Jules Bianchi was fourth for ART, with his team-mate Esteban Gutierrez the quickest GP rookie in eighth. Dani Clos (Racing Engineering) and Rodolfo Gonzalez (Trident) completed the top six.
Seventh-placed Arden driver Josef Kral had been the man to beat in the morning, when his 1m36.609s time beat nearest rival Ericsson by 0.3s.
Clos, Bianchi and Herck had filled the other top five spots in this session, with Formula 2 convert Jolyon Palmer an impressive sixth in the other Arden car.
Testing continues on Monday, followed by a two-day break before the GP2 Asia season begins with practice on Thursday.
Session one:

Pos  Driver               Team                Time       Gap       Laps
 1.  Josef Kral           Arden               1m36.609s            26
 2.  Marcus Ericsson      iSport              1m36.912s  + 0.303s  21
 3.  Dani Clos            Racing Engineering  1m37.000s  + 0.391s  32
 4.  Jules Bianchi        ART                 1m37.114s  + 0.505s  23
 5.  Michael Herck        Coloni              1m37.240s  + 0.631s  25
 6.  Jolyon Palmer        Arden               1m37.389s  + 0.780s  29
 7.  Rodolfo Gonzalez     Trident             1m37.484s  + 0.875s  22
 8.  Max Chilton          Carlin              1m37.495s  + 0.886s  18
 9.  Charles Pic          Addax               1m37.503s  + 0.894s  30
10.  Giedo van der Garde  Addax               1m37.592s  + 0.983s  21
11.  Esteban Gutierrez    ART                 1m37.715s  + 1.106s  21
12.  Sam Bird             iSport              1m37.725s  + 1.116s  17
13.  Stefano Coletti      Trident             1m37.809s  + 1.200s  27
14.  Julian Leal          Rapax               1m37.814s  + 1.205s  24
15.  Andrea Caldarelli    Ocean               1m37.822s  + 1.213s  36
16.  Davide Valsecchi     AirAsia             1m37.846s  + 1.237s  21
17.  Nathanael Berthon    Racing Engineering  1m37.876s  + 1.267s  32
18.  Oliver Turvey        Ocean               1m37.961s  + 1.352s  40
19.  Fabio Leimer         Rapax               1m38.077s  + 1.468s  20
20.  Luiz Razia           AirAsia             1m38.095s  + 1.486s  24
21.  Mikhail Aleshin      Carlin              1m38.098s  + 1.489s  24
22.  Fairuz Fauzy         Super Nova          1m38.226s  + 1.617s  11
23.  Romain Grosjean      DAMS                1m38.421s  + 1.812s  24
24.  James Jakes          Coloni              1m38.622s  + 2.013s  14
25.  Pal Varhaug          DAMS                1m39.438s  + 2.829s  30
26.  Johnny Cecotto       Super Nova          1m40.006s  + 3.397s  6

Session two:

Pos  Driver               Team                Time       Gap       Laps
 1.  Michael Herck        Coloni              1m36.467s            27
 2.  Davide Valsecchi     AirAsia             1m36.477s  + 0.010s  27
 3.  Marcus Ericsson      iSport              1m36.477s  + 0.010s  22
 4.  Jules Bianchi        ART                 1m36.592s  + 0.125s  28
 5.  Dani Clos            Racing Engineering  1m36.655s  + 0.188s  24
 6.  Rodolfo Gonzalez     Trident             1m36.826s  + 0.359s  19
 7.  Josef Kral           Arden               1m36.834s  + 0.367s  28
 8.  Esteban Gutierrez    ART                 1m36.907s  + 0.440s  35
 9.  Max Chilton          Carlin              1m36.908s  + 0.441s  16
10.  James Jakes          Coloni              1m37.022s  + 0.555s  22
11.  Sam Bird             iSport              1m37.030s  + 0.563s  32
12.  Romain Grosjean      DAMS                1m37.076s  + 0.609s  36
13.  Luiz Razia           AirAsia             1m37.147s  + 0.680s  27
14.  Andrea Caldarelli    Ocean               1m37.155s  + 0.688s  21
15.  Johnny Cecotto       Super Nova          1m37.226s  + 0.759s  27
16.  Fairuz Fauzy         Super Nova          1m37.231s  + 0.764s  28
17.  Fabio Leimer         Rapax               1m37.304s  + 0.837s  32
18.  Oliver Turvey        Ocean               1m37.305s  + 0.838s  16
19.  Stefano Coletti      Trident             1m37.331s  + 0.864s  26
20.  Mikhail Aleshin      Carlin              1m37.419s  + 0.952s  24
21.  Pal Varhaug          DAMS                1m37.734s  + 1.267s  36
22.  Jolyon Palmer        Arden               1m37.912s  + 1.445s  9
23.  Julian Leal          Rapax               1m38.059s  + 1.592s  23
24.  Nathanael Berthon    Racing Engineering  1m38.523s  + 2.056s  24
25.  Giedo van der Garde  Addax               1m39.176s  + 2.709s  31
26.  Charles Pic          Addax               1m39.495s  + 3.028s  36